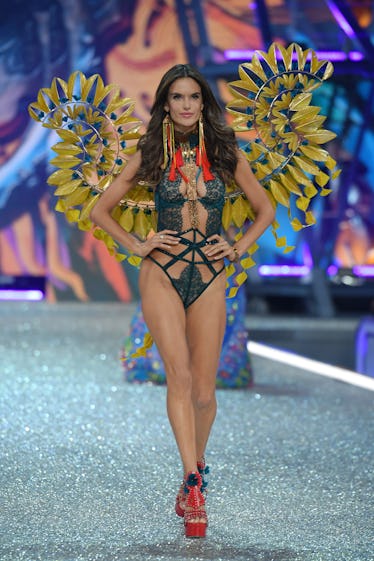 Alessandra Ambrosio & Her Fiancé Of 10 Years Prove You Can Have It All
Dimitrios Kambouris/Getty Images Entertainment/Getty Images
Perhaps the most famous of all the Victoria's Secret angels is Alessandra Ambrosio. She is literally a staple of the brand, and I remember seeing her on the cover of VS catalogues when I was in high school. Now, she still rocks the runway harder than basically anyone. Although she is a world famous supermodel, she lives a relatively quiet life with her family. You may be wondering, "Is Alessandra Ambrosio single?" Well, not exactly.
According to Glamour in 2015, Ambrosio and her long-term partner, Jamie Mazur, had already been engaged for eight years, and it has not been confirmed that the two ever tied the knot. This means, the short answer to the single question is no, Alessandra Ambrosio is not single. She's been engaged to the same man, who she also happens to have two kids with, for the past 10 years. If that doesn't scream "commitment," I'm not sure what does.
Who is Jamie Mazur and how did he snag the top VS model? According to Bustle, Mazur is an entrepreneur in the denim industry. He started with the company Underground Denim, a business that thrived on selling high-quality denim on college campuses. From there, his newest endeavor is Re/Done. According to the website,
We take the vintage denim apart at the seams, repurposing it as the fabric of our new jeans.
Basically, the company recycles vintage denim into super cool new pants. If most items didn't have a $200 and up price tag, I'd be all over that. Obviously, the denim thing is working for Mazur, who has a reported estimated net worth of $20 million. Not too shabby.
Some people might find it odd that Mazur and Ambrosio have been engaged a lot longer than the average couple. The model explained to ExtraTV back in 2015 that she wants to wait until she has time to create the perfect wedding. She said,
When I do the wedding, it's gonna be very special, so I want to take time for that.
Being an angel and mom of two obviously takes up a ton of her time — I don't blame her for wanting to wait until life slows down a bit.
THANK YOU FOR YOUR SACRIFICE FOR MY ENTERTAINMENT ON THE VS RUNWAY, ALESSANDRA.
Even though the two may never officially sign a marriage license, they are so, so sweet on social media. The couple is constantly posting photos of one another and showing support. For example, Ambrosio made an appearance in the movie Daddy's Home 2.
Mazur took to Instagram to say how Ambrosio always surprises him. The caption said,
Once again she surprised me. My baby momma can act too!congratulations and Love ya...Go see daddy's home 2 when it comes out. and you will see what I mean. What a fun and funny movie
Now that's a supportive fiancé. Even Ambrosio isn't afraid to share a picture of date night.
Overall, they're super cute. The pair is also cool AF because they went to Burning Man music festival together.
JEALOUS, MUCH?
Besides going on amazing trips and being an overall spectacular couple, Ambrosio and Mazur share two children.
Their 8-year-old daughter, Anja, and 4-year-old son, Noah, are seriously little Alessandra mini-mes, in my opinion. I can't even begin to fathom what having a world-renowned supermodel as a parent is like, but I bet it's pretty badass. It's obvious that the two are very proud parents — they post pictures of their kids on social media all the time.
Cute, right? Don't worry, they post plenty of mushy love things, too.
AM I NOW OBSESSED WITH THIS COUPLE? I think so. Honestly, I feel like we could all use a new celeb couple to gush over.
Alessandra Ambrosio and Jamie Mazur seem to have an amazing relationship and family. On Nov. 28, when you watch Ambrosio strutting down the VS catwalk, you can let out a huge sigh knowing that some people truly have it all.
Check out the entire Gen Why series and other videos on Facebook and the Bustle app across Apple TV, Roku, and Amazon Fire TV.