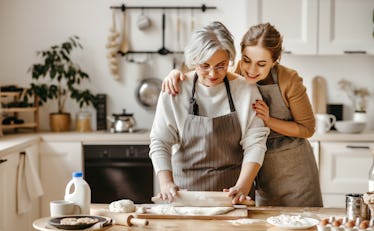 Airbnb's Online Experiences For Mother's Day Are Too Sweet To Pass Up On
Shutterstock
With Mother's Day coming up, this is your chance to shower Mom (or the mother figure in your life) with extra love. Perhaps you have a tradition of making her breakfast in bed and giving her a sweet gift you made from scratch. You'd like to keep those traditions going strong no matter what, and Airbnb's online experiences for Mother's Day are here to make that happen.
Your family may experiencing a unique Mother's Day this year, due to the COVID-19 pandemic. If you're long-distance from your mom, or even if you live together, a virtual experience can be a great way for you two to feel connected. While you're staying at home, these online Airbnb experiences will give you a chance to make some great memories, and the farthest you'll have to travel for any of them is to your kitchen.
The wide variety of experiences offered on either the day before Mother's day or on the big day let you keep those traditions you love going. If you're used to eating pancakes with your mom, learn how to flip the perfect pancake with a lesson from a chef in San Fransisco. Or, learn how to make cheese while virtually hanging out with goats. Whatever you choose, you're sure to make memories with your favorite person on this incredibly special day.