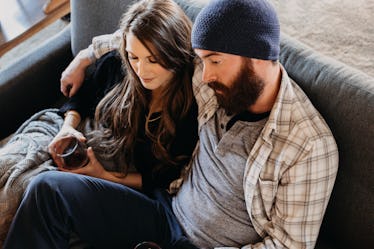 5 Surprising Things I Learned About Relationships After Living With My Boyfriend
After moving in with my boyfriend, I have to say I was pretty surprised by how well our habits seemed to mesh. I had heard so many horror stories about how moving in together was "the kiss of death," so needless to say I was a bit on edge. Living with a boyfriend for the first time is filled with so many unknowns that it's easy to assume things are going to be a certain way, only to find out that you were very wrong.
I firmly believe that you don't really know someone until you've lived with them. Even looking back on living situations with platonic friends who I could've sworn I knew better than anyone — you see a different side to someone when you come home to them every night. This can be a really fun journey to embark on with someone you love, but not without the occasional fight over whose turn it is to clean the toilet.
If you think you and your bae couldn't be more compatible, finally moving in together is a great way to put that compatibility to the test. The most important thing that living with someone has made me realize is that a having a harmonious life together might mean being willing to do things you might not want to do to make each other happy. Even if that means cleaning the toilet twice in a row because they refuse to concede that it is in fact their turn.