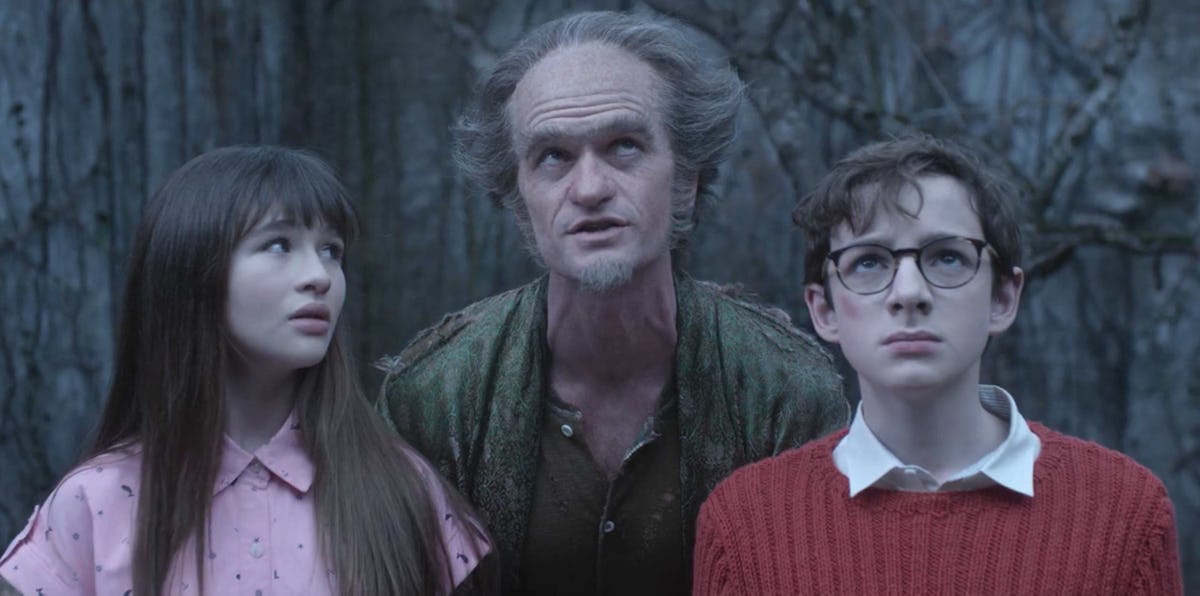 'A Series Of Unfortunate Events' Dropped A Creepy AF Trailer & Revealed New Premiere Date
Netflix
Count Olaf is coming back to haunt your TV screens (or computer screens) pretty dang soon. Netflix just released a first look at the upcoming second season of its thrilling, creeptacular adaptation of A Series of Unfortunate Events, and the new season already looks like it will be even more action-packed than the first. Along with the sneak peek, the teaser video also revealed the Season 2 premiere date for A Series of Unfortunate Events, and fans will be excited to know that the Baudelaire children's ongoing adventure will resume in just a couple of months.
Netflix dropped the new video clip on New Year's Day, and it begins with Neil Patrick Harris' murderous Count Olaf brandishing a pair of knives as he menacingly sets up a 30-second first look at the second season, and confirms that the show will return in a little under four months, on March 30, 2018. Then, we get a quick peek at some scenes from Season 2 of A Series of Unfortunate Events, which include the Baudelaires running from a mob of pitchfork-wielding townsfolk demanding that the children be burned, making a great escape on a flying ship, and running into Count Olaf once again, who greets them by seething, "Does this feel like a nightmare? Because that's the effect I was going for."
Check out the full first look teaser trailer for Season 2 of A Series of Unfortunate Events below:
With the grim backstory of Violet, Klaus, and Sunny Baudelaire's parents perishing in a house fire and their twisted relative Count Olaf out to murder the kids to claim their parents' fortune already set up in Season 1, it looks like Season 2 will be freed up to explore the dark and quasi-mystical wider world of A Series of Unfortunate Events even more. Neil Patrick Harris revealed to Elite Daily a couple months ago that fans would get to see a lot more of the Baudelaire kids taking action and going on wilder adventures in Season 2 now that they have worked out more details of what's really going on with Count Olaf and their family mystery:
I'm very excited by this season. It's still based as firmly as Season 1 was on the books before them and that's our source material. I'm a big fan of it, I think these middle books allow the Baudelaire kids to take action in a way they weren't able to in the first few. They were kind of static and a bit shell-shocked by the loss of their parents and their constant uprooting and meeting new people who continue to let them down. But now that they figured that structure out, these kids can take some more action and we're getting to have some more fun.
And the exciting news keeps on coming: A Series of Unfortunate Events Season 2 will also be a bit longer than the first season was. Season 1 adapted the first four books of Lemony Snicket's 13-part book series in its eight episodes, and now Season 2 will cover books 5 through 9 with a boosted ten episodes. A Series of Unfortunate Events has already been picked up for a third season as well, which is expected to conclude Snicket's book series by adapting the final four books.
In his earlier talk with Elite Daily, Neil Patrick Harris teased that although the Netflix series is remaining true to the books, there will still be some surprises in the new season that even the most diehard fans of Lemony Snicket's beloved saga won't see coming, including a few minor characters from the books getting a lot more attention and detail in the show.
All ten episodes of A Series of Unfortunate Events Season 2 will drop on Netflix on March 30.