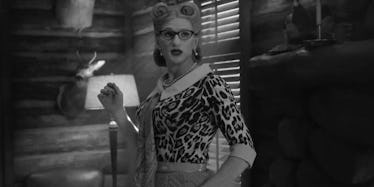 Neil Patrick Harris Totally Wins Best Actress In New 'Unfortunate Events' Clip
Netflix
Look, Ryan Gosling is very charming, in his soft yet manly way, but the real winner of Sunday night's Golden Globes is Neil Patrick Harris.
No, he wasn't technically nominated for anything this year, but I'm gonna go ahead and give him the award anyhow, just for this new "A Series of Unfortunate Events" spot that aired during the Globes.
In case you missed the trailer and the teaser trailer...
Yes, Lemony Snicket's "A Series of Unfortunate Events" is being made into a Netflix series. No, Jim Carrey is not in it. Yes, NPH is playing Count Olaf instead, and yes, it looks excellent.
This most recent TV spot gave us the best look at NPH's comedy in the role yet.
Now, as you may or may not know, Count Olaf is a renowned actor (and he totally deserves a Golden Globe).
He is very handsome, after all.
He does serious theater acting.
He does quirky roles in independent, Wes Anderson-esque films.
He's certainly not afraid to take on a character who is different from him.
(Plus, he looks really good in a blouse, pencil skirt and a dark shade of lipstick to accentuate his complexion.)
He even designs and creates his own costumes for his characters.
So yeah, Count Olaf for Best Actor, Best Supporting Actor, Best Costume Design and Best Actress.
And Neil Patrick Harris for Best Actor in a Comedy Series. (That one is a serious suggestion. I fully expect to see that at the 2018 Golden Globes.)
"Lemony Snicket's A Series of Unfortunate Events" will begin streaming on Netflix on January 13 (aka, this Friday!).
The series will be eight episodes and cover the (unfortunate) events of all four books in the original children's series, with two episodes for each book.
Even if you loved what Jim Carrey did with the role back in 2004, you have to admit a) you have weird taste and b) Neil Patrick Harris is just better. He just is.