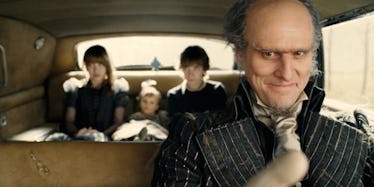 Lemony Snicket's 'Unfortunate Events' Teaser Is Here And It's Creepy
All hail Netflix!
Yesterday, the first trailer for Netflix's original serial adaptation of Lemony Snicket's beloved "A Series of Unfortunate Events" novels was released, and from the looks of it, it nailed the stories' signature gothic vibes.
When Netflix broke the news of the upcoming adaptation back in November, it emphasized the series would receive heavy guidance from its original author, Daniel Handler (aka Lemony Snicket).
As such, the teaser includes scenery from several of the 13 novels, suggesting the television adaptation will encompass the entire series -- unlike previous attempts to recreate the stories.
Still, there's no word on when the series will hit Netflix, so stay tuned.
In the meantime, check out the trailer up top to get excited. So far, this adaptation is shaping up to be a major success.
Update: The teaser was not released by Netflix and is not official.