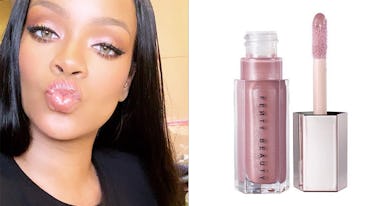 A New Fenty Gloss Bomb Shade Is Dropping Soon & According To Twitter Users, You Need It
Rihanna/Instagram; Fenty Beauty
Attention all Rihanna lovers: Prepare to be thrilled, because there's a new Fenty Gloss bomb shade in town, and in the words of Lil Mama, it's poppin'. If you thought Ariana Grande's new "thank u, next" music video was the only thing keeping the spirit of Mean Girls alive in 2018, think again, because this brand new shade is a pouty pink hue only Rihanna herself could rock better than Regina George. After all, whoever said nude lips were the new pink was seriously disturbed.
While Fenty Beauty does drop entire collections all at once — did you not gag over the Chill Owt holiday line? — they've also been known to release a new shade or two practically out of the blue, especially when it comes to their lippies. After the success of the now-iconic Stunna Lip Paint ($24, fentybeauty.com) in its original shade, "Uncensored," the brand dropped three additional nude shades, as well as an intense matte black, in an arguably random (but definitely incredible!) 7-day period dubbed #StunnaWeek. Now, it seems Riri is ready to expand on yet another iconic lip product, the Gloss Bomb Universal Lip Luminizer ($18, fentybeauty.com), which also debuted in just one universal shade, "Fenty Glow."
Keep in mind, Fenty Beauty has already created one additional shade of Gloss Bomb, "Diamond Milk," for their anniversary collection back in September. But even so, fans weren't expecting Rihanna to reveal a third shade so soon. She took to her Instagram stories to show off new shade "Fu$$y" (great name alert!) and apply a few swipes, and fans were instantly obsessed.
Here's Riri's original Instagram story, which the brand later uploaded to their feed:
Rihanna then followed up with a selfie rocking the new shade, and oh my gosh, it's everything:
While "Fenty Glow" was a rosy nude and "Diamond Milk" was a pearlescent silver sheen, all-new "Fu$$y" is a dreamy, cool-toned pink. The girly hue drops December 7 on the Fenty Beauty site as well as Sephora and Harvey Nichols.
@TrendMood1, an Instagram account known for covering beauty trends and launches, shared even more images of the new shade, and I seriously can't get enough:
And according to Twitter, neither can anyone else:
However, there were a few Fenty fans comparing the new hue to the original "Fenty Glow" shade, claiming they were a little too similar to justify both:
At first glance, I admit I did sort of find the two shades similar, but now that more images and swatches are out, it's clear "Fu$$y" and "Fenty Glow" are two different, equally stunning breeds. "Fu$$y" is far more cool-toned and traditionally pink, while "Fenty Glow" is a warm-toned nude with just a hint of rosey tone.
While different, both are definitely essential in my book, which is why I'll be snagging the new shade as soon as it drops on Friday, and will be keeping my eyes out for more random Gloss Bomb releases in the future. Personally, I'd love a sheer, shimmery berry shade, or even a sheer red gloss to add some shine to my Stunna Lip Paint in "Uncensored." Make it happen, Riri!
And with that, I'll leave you with my new life motto, via Twitter: