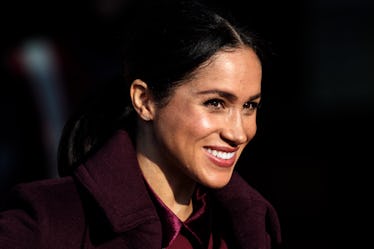 A Musical About Meghan Markle's Life Is Actually Happening, So Get Your Popcorn Ready
Jack Taylor/Getty Images Entertainment/Getty Images
If you didn't get enough of the royal family in 2018, I have good news. A radio musical about Duchess of Sussex Meghan Markle is slated to be released next year. Yep, you read that right — a Meghan Markle-inspired musical will air on BBC Radio 4, so get ready for even more of the royal family in your life as you ring in 2019.
On New Year's Day, Jan. 1 2019, BBC Radio 4 will air a 15-minute radio musical inspired by Markle's life. According to People, the broadcast will be called "The Sixth in Line to Be King and I" and will star British comedian Pippa Evans who will play Markle, Dave Lamb, and Richie Webb. The short musical will be a "Rodgers and Hammerstein-inspired" comedy, according to The Telegraph. The publication also reports that it will focus on what 2019 has in store for Markle and Prince Harry.
Per Hello Giggles, the royal family apparently was not consulted about the show. Elite Daily reached out to Kensington Palace for comment on the report and the musical, but did not hear back at the time of publication. For context, last year's BBC Radio Christmas schedule did include a special program guest-edited by Prince Harry, so it appears that the royal family might be on good terms with the radio station. With or without royal approval, the musical will air with the new year and join other media about Markle and her husband Prince Harry, like Lifetime's Harry and Meghan: A Royal Romance, though hopefully it won't be quite as over-the-top as a Lifetime movie.
This isn't the radio station's first go at making a musical about a public figure. Previous BBC Radio 4 15-minute musicals have included "The Legend of Holy Superior Mother Theresa May and the Magic Money Tree," "Jeremy Corbyn Superstar!," "Cabarexit," and "Lady and the Trump," a 2016 Christmas show where the U.S. presidential election got the Disney treatment, which included song parodies based on unpopular candidates. The Markle musical, "The Sixth in Line to Be King and I," will be one of the two Christmas episodes airing on BBC Radio 4 — the second, called "Eurostars," will feature a Eurovision contest-style performance from "non-Brexit-obsessed counterparts on the continent as they look back on their action-packed 2018," per The Telegraph.
2018 was a big year for Markle and Prince Harry. The two got married in a royal wedding on May 19 after being engaged for six months. The couple announced that Markle is pregnant in October, five months after the California-born beauty officially became a member of the British royal family. Aside from her royal escapades, Markle has focused a lot of energy on charitable causes over the years, and she even recently released a cookbook in September, with its proceeds going toward helping those affected by the June 2017 Grenfell Tower fire that killed 72 people. Whether it's performing for the big screen, participating in international activism, or marrying into the royal family, anyone creating a Megan Markle Musical about her life should have a lot to talk about.