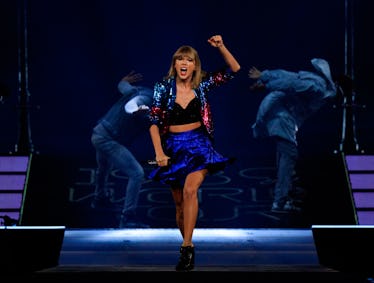 A Man Broke Into Taylor Swift's Home & Slept In Her Bed, & It's So Terrifying
Christopher Polk/Getty Images Entertainment/Getty Images
As someone who grew up watching (way too many) scary movies, I've gotten used to the slightly embarrassing routine of looking in my closet, under my bed, and behind my shower curtain, like, every single night before I go to sleep. Maybe that isn't completely normal or healthy, but hey, what can you do? Anyways, my constant paranoia might actually be (somewhat) warranted, because recently, a man broke into Taylor Swift's home and slept in her bed. No, this is not a sequel to Fatal Attraction, guys — it happened in real life, and it's honestly so terrifying.
If you haven't already heard, police were urgently called to T. Swift's New York City apartment on Friday, April 20, when a man attempted to break into Swift's Tribeca townhouse, according to Cosmopolitan. The intruder was allegedly seen climbing a ladder and smashing a window with his bare hands, and per TMZ, he also appeared to have taken a shower while inside the apartment before taking a nap in a bed. The NYPD said in a statement to Elite Daily that officers found 22-year-old Roger Alvarado asleep in the apartment, and arrested Alvarado on charges of stalking, burglary, criminal mischief, and criminal trespass. Per the Associated Press, it was unclear if Alvarado had legal representation. Elite Daily could not reach the Manhattan Criminal Court for comment on the matter.
Luckily, Swift wasn't actually in the apartment at the time of the break-in, but eek, that is so. Freaking. Terrifying. In the words of Swift, I knew he was trouble when he walked (er, broke) in (LOL). Honestly, I was not prepared to hear that he slept in her bed. Yikes.
Wanna know the scariest part, though? The man found in her house, Roger Alvarado, had a prior arrest at the exact same location. Per the Associated Press, he was arrested for breaking down the front door with a shovel earlier this year, in February. Fortunately, Swift wasn't home at the time of that attempted break-in either. Either way though, it's a freaking nightmare. These intruders seriously need to back off my girl.
Unsurprisingly, Alvarado isn't the only person alleged to have lurked in or around Swift's New York City home. Back in 2016, a man who was described as "disoriented" and "emotionally disturbed" was reportedly detained by police. He had previously been lurking outside of Taylor's Tribeca home. TMZ's recorded footage showed Swift's guards taking the man into custody, dialing 911, and having the NYPD escort the man away in handcuffs. Thankfully, Swift wasn't there for this incident either. So many creepers, so little time.
Luckily, all break-ins, lurkers, and creepers aside, Taylor Swift actually happens to be doing just fine. She recently released a new music video for her latest single, "Delicate," which is now on Spotify. If you haven't already seen it, it's totally what you need right now. Not only is the video shot as if Swift is FaceTiming fans from a nature walk, but she also manages to sing the song in one take. And, side note: her Tiffany & Co. "J" necklace is a total shoutout to her boo, Joe Alywn. Be still, my beating heart. Definitely make a point to watch it for yourself.
Even though I just so happen to be in a constant state of fear due to my love for horror movies, T. Swizzle's latest home invasion is absolutely terrifying. No thank you. But I have to say, I am beyond relieved that Swift is doing OK. Seriously, this better not happen again to my gal again. If you haven't watched Swift's newest music video, though, make a point to watch it. After hearing this horrifying news, it'll definitely calm your shattered nerves.