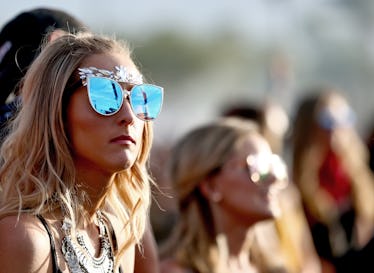 A Fyre Festival Docuseries Is Coming To Hulu Because Everyone Still Has Serious Questions
Rich Fury/Getty Images Entertainment/Getty Images
Remember Fyre Festival, the failed luxury music festival that will live in infamy? Of course you do, because its rapid decline was basically iconic. Get ready to relive the drama, because a Fyre Festival docuseries is coming to Hulu, and it sounds like it's going to be amazing. The currently untitled docuseries will explore everything from behind-the-scenes drama at the festival to organizer Billy McFarland's fraud trial in an attempt to answer two very important questions: what exactly went wrong, and who is to blame for the festival's epic downfall? These are exactly the questions that I've been wondering for months, so thank you, Hulu, for stepping in to answer them.
First, a refresher: Fyre Festival was advertised as an ultra-luxury music festival (think Coachella, but minus the desert) in the Exumas, Bahamas, set to begin in April 2017. The festival was organized by 25-year-old McFarland, an entrepreneur, and rapper Ja Rule and was promoted all over social media, including by celebs like Kendall Jenner, Bella Hadid, and Hailey Baldwin. But as soon as festival goers arrived in the Bahamas, they realized that things were not as advertised: The festival site had no electricity, barely any food, and was filled with half-built tents. Quickly, the festival's music guests, including Blink-182, Lil Yachty, and Migos, dropped out, and McFarland was hit with a lawsuit. He plead guilty to fraud charges in March 2018.
According to The Hollywood Reporter, the Fyre Festival docuseries will focus mainly on "in-depth interviews" with people who know what really went down: "local Bahamians, stranded festival-goers, vendors and investors," and more. Plus, the Hulu series will include "hours of exclusive never-before-seen footage, leaked documents, emails and recordings," so after months of uncertainty, we'll finally learn exactly what went wrong in the process of planning Fyre Festival. And from the sound of these "leaked documents" and "never-before-seen-footage," what went wrong is even more scandalous than I originally thought. Part true crime, part shocking drama? Sign me up for this docuseries (but definitely not for Fyre Festival).
Unlike McFarland, the team behind the Hulu series knows a thing or two about how to put on a successful show. The docuseries will come from producers at Billboard, Mic, and The Cinemart, three companies that are very familiar with the music and TV world. Recently, The Cinemart has put out two successful documentary projects: Spike's Time: The Kalief Browder Story and Paramount Network's Rest In Power: The Trayvon Martin Story, both of which Jay-Z collaborated on. If these two projects are any indication, the Fyre Festival docuseries will be both informative and compelling.
I'm not the only one who's super psyched for Hulu's Fyre Festival docuseries. As soon as the news was announced on Monday, April 16, Twitter erupted with excitement.
As entertaining as the docuseries sounds, it won't be without a message. Billboard reports that the show will serve as a "cautionary tale for the millennial generation about the corruptive power of ambition, social media and instant gratification in the digital age." It's well and good to have a moral message at the center of your project, but as a member of said millennial generation, it seems like this statement may be missing the mark. Aren't the villains in this story the festival organizers who swindled their way through festival season, not the people who were manipulated? Sure, millennials with money to burn may seem like an easy target, but putting them at the center of the story — instead of the corrupt organizers — seems like a bit wrong. But all in all, my concerns are pretty minor, because the Fyre Festival docuseries sounds super amazing, and obviously, I'm still going to watch.
There's no official date for the show's premiere on Hulu, but expect it to air sometime in 2019.