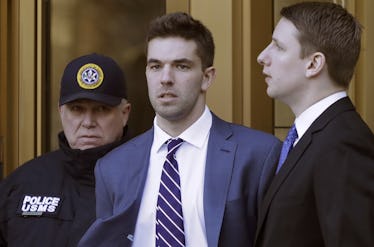 The Fyre Festival Organizer Pleaded Guilty To Fraud, So Karma Is Real
Mark Lennihan/AP/REX/Shutterstock
Remember back in 2017 when travelers paid hundreds (or even thousands) of dollars to travel to the Bahamas, expecting to have the time of their lives at Fyre Festival, only for it to be a total sham? Attendees complained that rather than living luxuriously for a weekend, they were subjected to poor living and eating conditions, and it just looked really bad for the organizers of the event. But now, attendees are probably feeling vindicated — because on March 6, co-creator and festival planner Billy McFarland pleaded guilty to fraud charges over the fiasco that was the Fyre Festival.
According to Bloomberg, McFarland pleaded guilty to two counts of wire fraud, which carry up to a 20-year sentence each. The reported plea deal would have McFarland serving eight to 10 years in prison and paying a fine of up to $300,000. The site reported that McFarland admitted that he "grossly underestimated the resources," that he would need to host an event like Fyre Festival — seemingly claiming that his intentions were pure — and that he also swindled a group of investors out of more than $26 million. When speaking to U.S. District Judge Naomi Reice Buchwald about the charges, McFarland said, "My intention and effort was directed to organizing a legitimate festival. In an attempt to raise what I thought were needed funds, I lied to investors about various aspects of Fyre Media and my personal finances."
When summing up McFarland's court appearance, U.S. attorney Geoffrey Berman said, according to CNBC,
As he admitted today, William McFarland tendered fake documents to induce investors and a ticket vendor to put more than $26 million into his company and the disastrous Fyre Festival. He now awaits sentencing for his admitted swindle.
McFarland's official sentencing is reportedly scheduled for June 21.
There's also all of the worthless luxuries McFarland reportedly spent money on.
On March 5, Page Six published a report that detailed McFarland's spending, and it's probably as bad as you're thinking. The ex-event organizer reportedly spent $160,000 on a yacht for super-group Blink-182 (who ultimately dropped out of the event, BTW), $18,208 on towels (even though there were no lavatories — the audacity!), and $260,000 on carpet for the tents, all of which capped around $470,000. An unnamed source to the publication said that McFarland was a "millennial gone wild" versus a person who acted with criminal intent. The source reportedly said,
There was gross mismanagement and a general misunderstanding of how events like this unfold and that purchases weren't being vetted... At no point in time if you look at the big picture does it appear that there was ever a criminal element. It was just the idea of a 20-something who unraveled.
That's actually kind of appalling, because I'm younger than McFarland and the process of organizing an event, including things like making sure you have enough money to pay for everything, just seems like common sense to me.
In case you've forgotten, Fyre Festival was kind of disastrous.
The April 2017 festival was billed as the "Coachella in the Caribbean," with performances from artists and bands like Blink-182, Major Lazer, and Disclosure. However, after arriving in the Bahamas for the event, festivalgoers found themselves in the middle of something straight of a horror film. Instead of having lavish living arrangements, hot food, and rocking music acts, travelers found half-built tents, cold-cut sandwiches, and an itinerary that didn't live up to its promises. Many of the event's attendees took to social media to call out the festival.
Things took another turn a few weeks later, on June 30, when McFarland was arrested and slapped with federal fraud charges for misrepresenting his company's income in order to defraud investors out of more than $1 million dollars for the event. Though McFarland initially pleaded not guilty, it looks like he's ready to take ownership of the Fyre disaster, which, I'd say, is good news for everybody.
Well, you usually get some brownie points when you apologize, right? Maybe that'll work in his favor.