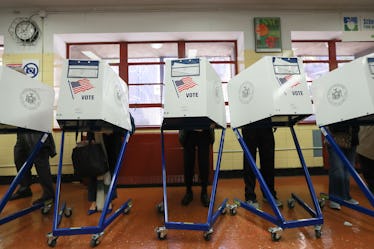 A Bunch Of Women Won Democratic Primaries & It's A Nice Sign For The 2018 Elections
Michael Reaves/Getty Images News/Getty Images
In a sea of horrible news about powerful men, there was a glimmer of hope for women in politics this week. It's officially primary season, and that means that these preliminary elections being hosted around the country will select who gets to run for office for a given political party in November. A bunch of women won Democratic primaries, and it's a great sign that more women could be elected to public office in the 2018 elections.
27 female candidates were the projected winners in their congressional primary races on Tuesday, May 8, according to Gender Watch 2018. That's out of 43 Democratic or Republican primary races that had at least one female candidate running. Eight of those 27 women winners are black. The Associated Press reported in April that a record number of women were running for office in the U.S. House of Representatives this year across the board. Many of them are reportedly Democrats motivated in response to President Donald Trump and policies of the Republican-majority Congress. Those patterns were on full display Tuesday night.
West Virginia had the highest concentration of female candidates, per Gender Watch 2018, with women making up nearly 30 percent of all House candidates in the state. Gender Watch 2018, which is a non-partisan project of the Center for American Women and Politics, reported that Tuesday's results saw a surge of female primary winners on both sides of the aisle, with most being Democrats.
"Women will be 27 of 81 (33.3 percent) of the major party nominees for the U.S. House from these states this fall, including 22 of 40 (55 percent) Democratic House nominees and 5 of 41 (12.2 percent) Republican nominees," the report stated. Just over half the nation's population is female, and according to an analysis by The Associated Press, four out of every five members of the U.S. House are men. The women's candidacies won't necessarily change that, but the favorable results on Tuesday, May 8, suggest that the momentum is continuing.
The problem for these female candidates is that most of Tuesday night's winners are in districts where their opponents are favored to win. For example, 16 of the women nominees will run as challengers to incumbents, per Gender Watch 2018, with 12 of 16 running in districts that solidly favor their opponents. Most of these challengers are Democrats who are running in red districts that went to Trump in 2016, per Elle Magazine.
Republicans, on the other hand, have the unique challenge of whether or not to side with the Trump administration on key issues. Jennifer Lawless, an author and American University professor specializing in women and politics, told GQ Magazine in 2017,
Every Republican is [tied to Trump's success]. I think the Republicans in Congress now, because there's unified party control — unless you have been explicitly against Trump or have gone rogue around some issues … your success and failures rises and fall with Donald Trump's.
There is also great obstacle in running against a powerful incumbent, for any challenging candidate. It's often harder to build name recognition and raise enough money to stand a fighting chance. Still though, this is proof positive that women can and do win elections. In March during the Texas primaries, more than half of nearly 50 women who ran in the state won their primaries, Vox reported. The strong female showing in Texas was reportedly due to a surge in Democratic voter turnout, per Vox.
If the Women's March is any indication, we can expect female voter turnout to be more bolstered than ever in November. At this year's march, the organization launched its "Power to the Polls" initiative, making it easier to register to vote. "This next stage of the movement will channel the energy and activism of the Women's March into tangible strategies to create change in 2018," the organization's website states.
There's only one way to find out. See you ladies in November.