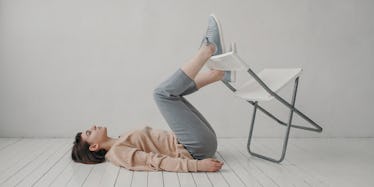 9 Workouts You Can Do With A Chair When Your Budget Isn't Ready For A Gym Membership
Though I'm not exactly proud to admit this, there have been many times when I've skipped a workout simply because I was far too lazy to leave my own house. TBH, though, that's no longer a valid excuse, because there are countless home workouts you can do to get your sweat on in the comfort of your very own room. Workouts you can do with a chair, for example, are actually really effective for strengthening nearly every part of your body, all with the help of just one simple household item.
When you think of incorporating a chair into your exercise routine, you probably envision parking your booty in one of those bad boys and doing a a couple of low-key legs lifts, or opening up your shoulders, or releasing tension in your neck with a few gentle stretches. And while these are all definitely great ways to add your four-legged contraption into your sweat sesh, there are even more ways to get a little creative with your chair workouts and challenge yourself in the most rewarding way possible.
So, whether you're admittedly kind of lazy like me, or your budget simply isn't ready for a gym membership, try these nine chair workouts that will put your muscles to the test, sans fancy fitness equipment.