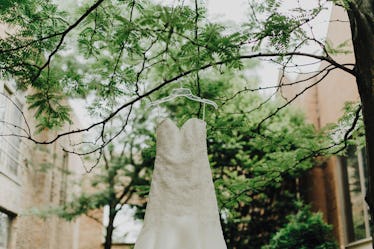 9 Tweets About Finding The Perfect Wedding Dress That Are So, Unbelievably Accurate
If you thought finding a dress for prom was a challenge, then the process of wedding dress shopping is probably going to blow your mind. These tweets about finding your wedding dress make it clear that nailing down the perfect look for your special day will definitely require some blood, sweat, and tears — well, maybe not blood, but you get my point.
Although you might feel overwhelmed at times, staying positive is key. The truth of the matter is that there are so many options out there, so having some idea of what you want will definitely be helpful. That said, according to bridal salon owner Lauren Crispin, it's also important to keep an open mind. "You might have found your favorite dresses or styles when you look at images online, but you won't know what really works until you try them on," Crispin told Brides.com. "Sometimes the dress you never thought would suit you ends up being the perfect one for your shape."
Chances are, we've all ordered something online that we thought would look amazing, only to try it on IRL and realize that it just wasn't what we'd pictured. The road to finding the perfect dress might be a long one, so here's what to expect according to people who've been through it.