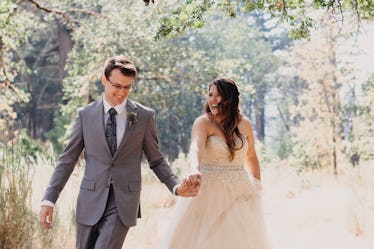 9 Tips To Make Your Big Wedding Feel Intimate, Because It's Your Day
Are you deep in the throes of wedding planning? And have you started to feel like everyone and their mother is coming? If so, it could be because you've actually let your mother take the reigns and start sending invites. If you feel like your wedding has gotten bigger than you expected, you're not alone. Still, you might be craving the intimacy of a small wedding, so I have some tips for you on how to make a big wedding feel more intimate. Don't worry — just because your aunt's college roommate who you've never met is going to be there doesn't mean it can't still feel like a small community of your closest friends coming together to celebrate you.
Big weddings can be a lot of fun. After all, all these people have come out because of how much they love you and your partner, not because they want to stress you out. It's difficult when you're managing so many different people's interests, sometimes your own have to take a back seat. The good news is that even if your partner has an enormous extended family and they've all got front-row tickets to the affair, you can still make it feel like the tiny, backyard wedding you've always dreamed of (if that was, in fact, your dream).
Read on to find nine ways to make a big wedding feel more intimate.