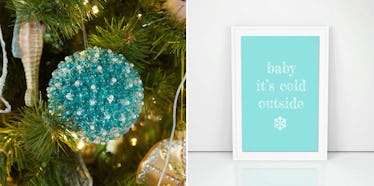 Red & Green Are Cool, But Tiffany Blue Christmas Decorations Are Stunning
Pier 1/Etsy
Red and green are the OG Christmas colors that we all love to see every year. However, if you're really trying to one up your holiday decoration game this time around, you may want to try out some Tiffany blue Christmas decorations. They can really class up your regular holiday look. Pretty much any Christmas decoration your heart desires, you can find in that iconic, beautiful teal color. There are Tiffany blue lights, ornaments, and even trees to deck the halls with.
Go all out this year and make your entire home revolve around this color scheme. Although, you can also take a subtle approach as the blue decorations look just as great against the green tree. Either way, your house will definitely stand out among your neighbors, and who doesn't want to shine this time of year?
Some people go with a crisp all-white Christmas decoration look, which is totally classy, but Tiffany blue takes that look and brings it up several notches. When your friends come over for any holiday party, they will think they just stepped into Tiffany's right on Fifth Avenue.
These nine Tiffany blue decorations are great to treat yourself to, or you can get them for your friends. Everyone you know can pretty much have a holiday home that Holly Golightly would die for, so throw on your pearls, because it's like we're having a Christmas at Tiffany's.