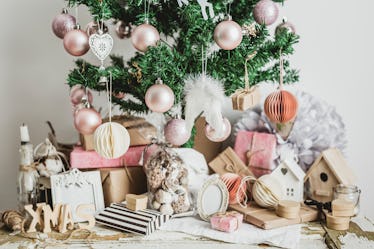 6 Dreamy Rose Gold Christmas Decorations You'll Be Obsessed With
Before you know it, Christmas will be just around the corner. And to make my point a little clearer for you — if you haven't decorated yet, it's time to get on that, like ASAP. I'm not saying it's Grinch-like to float through December with no Christmas spirit... but that might be a little green I see popping up on your face. Decorating for Christmas is one of the highlights of the holiday; there's something so lovely about a home brightened by Christmas string lights, stockings, and a Christmas tree glistening in a corner. I don't care how grumpy you are, it makes you feel a bit warmer inside just knowing your halls are decked. Not convinced? There's one thing I left out — there are actual rose gold Christmas decorations now.
In just the last few years, rose gold seems to have swept our feet off the ground. Everything's rose gold — from our Starbucks cups, to our phones, to jewelry and even some household staples. Basically, we can't get enough rose gold, and it doesn't seem to be going away any time soon. Luckily for us, we can bring that rose gold feeling into the holidays, because this year, there are some jaw-dropping rosey Christmas decorations to be found. These six gems are Christmas necessities for any rose gold lover.