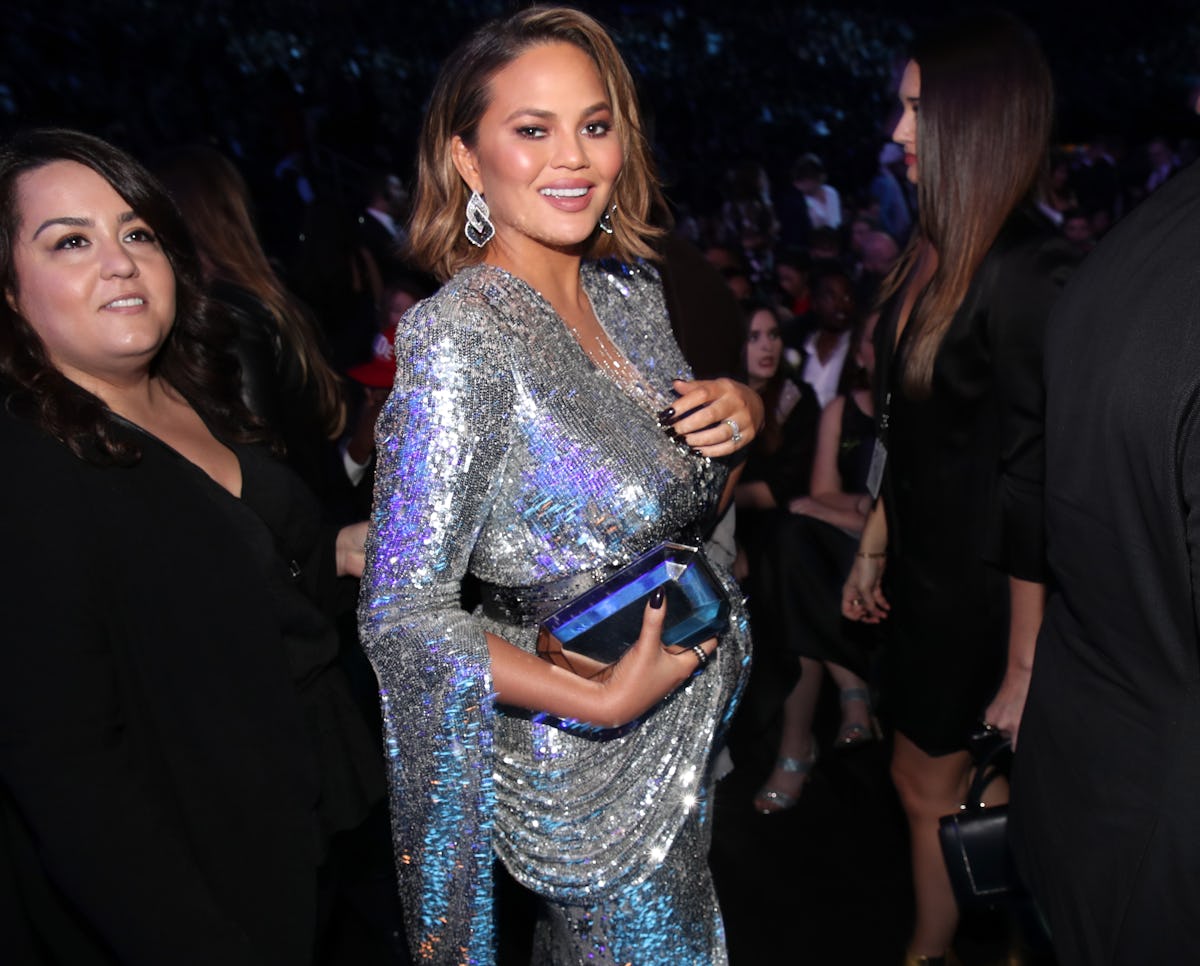 You Definitely Missed These 9 Tiny Moments At The Grammy Awards
Christopher Polk/Getty Images Entertainment/Getty Images
What a time to be alive. Donald Trump is president. Beyoncé was only nominated for one Grammy this year, and it wasn't even for her own song. Kendrick Lamar beat Bey's hubby, JAY-Z. This year, the 2018 Grammy Awards came at just the right time, when we're all questioning everything and need a little bit of fun. We saw some amazing things go down on television, but there was so much more magic happening behind the scenes and off the screens. You know it, and I know it. So it's time to talk about the things you didn't see at the 2018 Grammys on TV.
Obviously, we know that celebrities spent the day getting ready and glamming TF up. I assume their afternoons were full of juicing, exfoliating, sweat sessions, or tanning beds. Host James Corden likely spent the morning rehearsing his lines and best jokes, while Lady Gaga probably gargled with tea and salt water to get her pipes ready for crushing her performance. We know some stars like to get ready together, while others just spend some quiet moments taking selfies in their limos, and really, who knows what everyone else does? No matter how you cut it, we only get a very small look at what actually goes on at the Grammys. Sneaky editors.
But once the show was underway, the entire theater must have been packed with quiet, funny moments between friends, delicious food, and hilarious famous-people jokes. We caught a few of these tidbits on social media, and they're seriously epic. I mean, if you guys don't follow Justin Timberlake on Instagram yet, I can't help you. (Remember this moment from last year?)
Here's what went down before, during, and after the 2018 Grammys when the cameras were off and the social media accounts were on.
1. Chrissy Teigen Was Too Close For Comfort
Pregnant Chrissy was seated in the very front row and had some feelings about it. She shared a picture of her foot basically on the Grammy's stage with the caption, "Too close for comfort."
2. Annnnnnnd Then She Dipped Out Early
Teigen and hubby John Legend left the big event early, as she posted her "good night" video before the show even ended on national television. She also captioned it, "Mom and Dad home by 10:30!" Know what? Fair enough. She's busy growing another human being and needs her rest.
Oh yeah, she also announced she's having a baby freaking boy.
Sound the alarm, sound the alarm, sound the alarm! Teigen posted this photo with the caption, "mama and her baby boy." Bye! Goodbye! See ya! Dead!
3. DJ Khaled Drank Something With His Own Face On It
Listen, when at the Grammys, know what I mean? If DJ Khaled wants to get wasted on DJ Khaled, that makes sense to me.
4. Lady Gaga, JAY-Z, And Jerry Seinfeld Took The World's Most Iconic Photo
I mean, has there ever been a trio more... I don't know... famous? (Don't say Ron, Harry, and Hermione. How many times do I have to tell you guys they aren't real? We all have to move on.)
5. Miley Cyrus And Rita Ora Twinned Out On The Red Carpet
Cyrus and Ora bumped into each other on the red carpet in similar outfits and Cyrus was all about it! She captioned the candid (glam) moment, "When you & your bestie show up matchy matchy & you didn't even plan it!"
6. An Unsuspecting Woman Saw Beyoncé IRL And Almost Died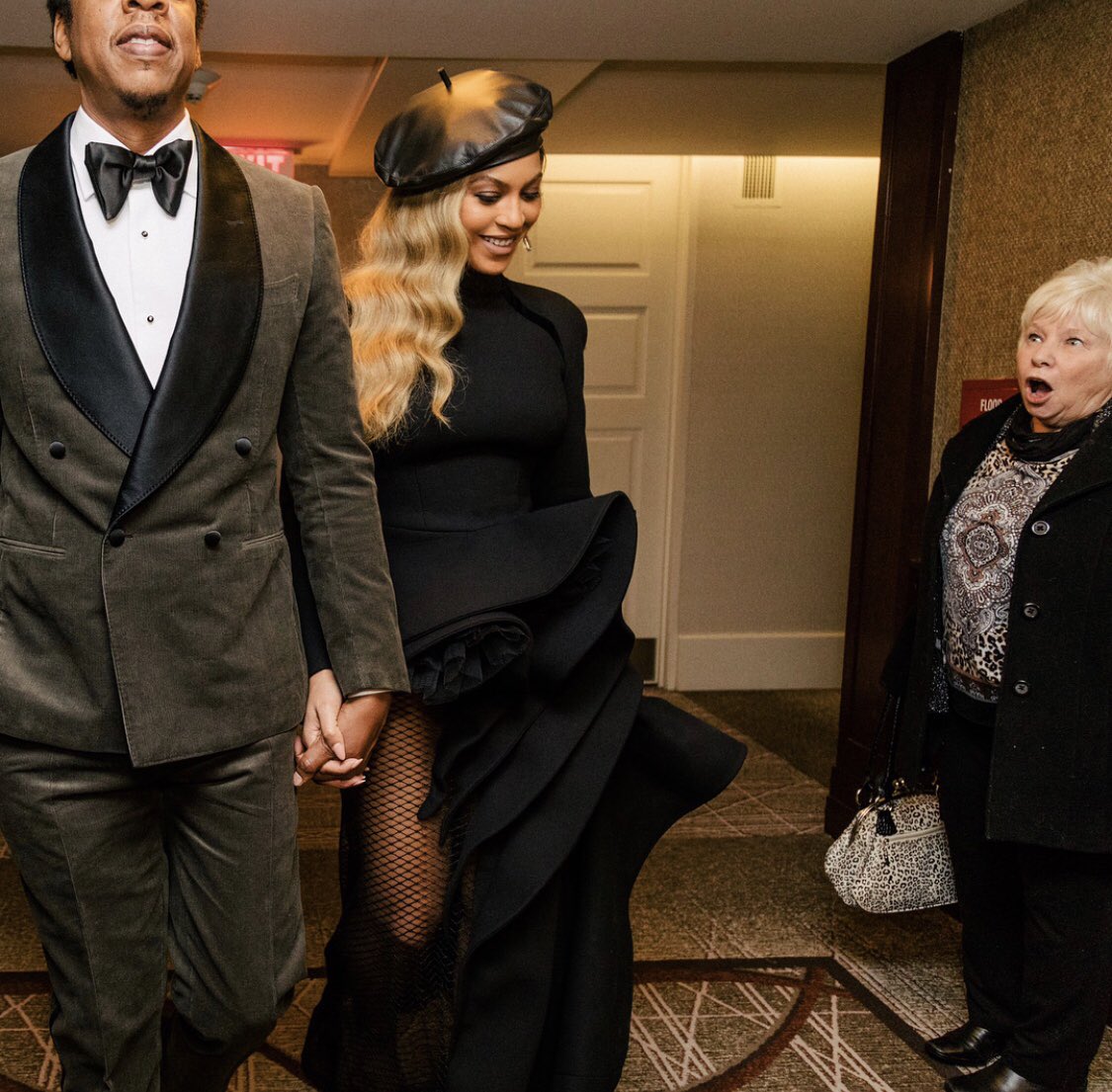 This poor lady didn't even see it coming. There she was, minding her own business, when an excruciating amount of glorious divine spirits walked right by her. Bless her.
7. Lorde Clapped With A Flask Instead Of Her Hands
Sometimes a girl's gotta do what a girl's gotta do. If that means using booze in place of your own human hands, so be it. Celebrities — they're just like us!
8. Blue Ivy Was Confused As Hell When Her Dad Didn't Win Record Of The Year
Ugh, #SAME, girl. Though she did her best to keep her cool, we all saw the bewilderment and confusion wash across her little angel face.
9. Then She Shushed Her Parents Like The Boss She Is
From where I'm standing, it looks like there is exactly one person who can tell Beyoncé and JAY-Z what to do, and that's Blue Ivy. She felt her parents were getting a little loose with their applause and put that sh*t to a stop.
If you're feeling like, "I can't believe I missed this!" don't worry. There's bound to be highlights and reruns all over the internet for weeks to come. Pop over to CBS online to take a peek at some of the best recaps of the night and fashion moments from the carpet... or do what I do, and follow every single person in the entertainment industry on social media. This way, you can kind of piece together what went down based on a million different celebrities' points of view. It feels like you were really there, you guys. Kind of.
Congratulations to all of the winners this year, and especially to all the amazing performers for bringing it! And thanks for giving us all a glimpse into the limelight and making us feel like Beyoncé, even though for some reason she wasn't given an award just for breathing.
Check out the entire Gen Why series and other videos on Facebook and the Bustle app across Apple TV, Roku, and Amazon Fire TV.