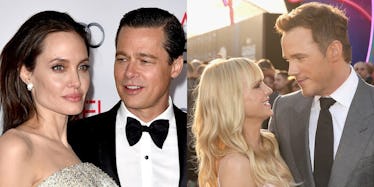 9 Celebrity Divorces That Came Out Of Nowhere & I'm Still Not Over Them
Kevin Winter/Getty Images Entertainment/Getty Images Jesse Grant/Getty Images Entertainment/Getty Images
You can't ever be sure of what's going on in someone else's relationship. Especially when that someone is a celeb. Despite the perceived 24/7 access to A-listers and their personal lives, things aren't often as peachy as it appears in the press or the 'gram. Partnerships are hard enough without putting them under a microscope. And while Hollywood's not exactly brimming over with successful marriages, it still comes as a shock when another seemingly perfect pair bites the dust and cites "irreconcilable differences." I mean, I could have never guessed we'd be living in a post-Brangelina era, but here we are. From the Jennifer Aniston-Justin Theroux split to the Gwyneth Paltrow-Chris Martin conscious uncoupling, these surprising celebrity divorces beg the question: Is love dead? *Heart bursts, tears flow, etc. etc.*
When a famous relationship does end, seemingly out of nowhere, it's probably not actually out of nowhere. According to celebrity divorce lawyer Laura Wasser in a Sept. 2016 Vanity Fair interview:
People may not even realize that this couple is getting divorced but we're actually all the way through the entire settlement before they even file anything with the court and announce to the world that they're splitting up. Then they don't have to go through their entire divorce-settlement negotiation under a microscope.
Makes sense, but it hurts all the same. Here are some of those heartbreaking divorces that surprised fans all over the world.
1. Anna Faris and Chris Pratt
TBH, I still haven't recovered from this iconic comedy couple's December 2017 divorce filing. And frankly, I'm not sure I ever will. Before any whispers of trouble leaked, Chris Pratt and Anna Faris officially announced their split on Aug. 6, 2017, and to say the world was shook is an understatement. We did not see this coming! After one child and eight years of marriage, the couple released a joint statement, saying:
Anna and I are sad to announce we are legally separating. We tried hard for a long time, and we're really disappointed. Our son has two parents who love him very much and for his sake we want to keep this situation as private as possible moving forward. We still have love for each other, will always cherish our time together and continue to have the deepest respect for one another.
2. Brad Pitt and Angelina Jolie
Raise your hand if you never, ever, ever saw this coming, because same. The couple formerly known as Brangelina was the epitome of the Hollywood power pair, and so when Angie abruptly filed for divorce from her partner of 11 years, gossip flew. According to Pop Sugar, Jolie's attorney released the announcement on the actress's behalf, calling her decision "for the health of the family."
Pitt followed up Jolie's news with his own comment, saying:
I am very saddened by this, but what matters most now is the well-being of our kids. I kindly ask the press to give them the space they deserve during this challenging time.
While things looked picturesque from the outside looking in, sources for Ue Weekly claimed that they frequently clashed over parenting style. "They came so close to this before. They fought a lot over the years and disagreed about many things."
3. Jenna Dewan and Channing Tatum
After meeting on the set of the 2006 dance drama Step Up and continuing to define couple goals throughout their 9-year marriage, Jenna Dewan and Channing Tatum decided to "lovingly separate" in April 2018. And while the pair has remained amicable co-parents to their 5-year-old daughter, Everly, fans were devastated. "There are no secrets nor salacious events at the root of our decision — just two best-friends realizing it's time to take some space and help each other live the most joyous, fulfilled lives as possible," their statement assured.
In February 2018, Dewan hinted to Health about working on their marriage:
I think a couple needs to be conscious and to want to do the work and be willing to look at the parts of you that need work. Both of us have been pretty aware and willing to do that," she continued. "We've always had the same values. But we're not perfect! Are you kidding? We fight like other couples, we disagree about things, we have days where we don't really like each other.
4. Jennifer Aniston and Justin Theroux
After Brad Pitt *allegedly* dumped Aniston for his now-second ex-wife, Angelina Jolie, Jen gave love another shot with herWanderlust co-star, Justin Theroux. And dare I say it, he was an upgrade. I know, I'm controversial. After their shocking divorce announcement came after two and half years of marriage, America was once again heartbroken for the former Friends star. "In an effort to reduce any further speculation, we have decided to announce our separation," the statement, released in February 2018, began. "This decision was mutual and lovingly made at the end of last year. We are two best friends who have decided to part ways as a couple, but look forward to continuing our cherished friendship."
According to sources for People, the exes were leading separate lives, on separate coasts, and ultimately it was their long-distance lifestyle that caused the split. A source for people said:
Jennifer loves her life in Los Angeles, and if anything, she has grown more attached to being there. Justin is not that comfortable or happy in Los Angeles all the time. He loves New York and always has.
Elite Daily previously reached out to Aniston and Theroux's teams for comment on the report but did not hear back by the time of publication. But still, UGH. 
5. Gwyneth Paltrow and Chris Martin
Lifestyle guru Gwyneth Paltrow and her former hubby (and Coldplay frontman) Chris Martin have long since moved on from their 10-year marriage. Paltrow is set to wed American Horror Story co-creator Brad Falchuk, while Martin has been dating Fifty Shades of Grey star Dakota Johnson since October. They've remained devoted co-parents, a #ModernFamily, according to Paltrow. However, when news first broke of their "conscious uncoupling" in 2014, fans were stunned. But the demise of their decade-long relationship wasn't a decision the pair came to lightly. A source for People revealed:
They have worked really hard for a year or more, going to therapy, trying to make it work – and she's been more honest than ever about how hard marriage is – but they just decided it was best to not be together anymore as a couple.
6. Taye Diggs and Idina Menzel
A match made in Broadway heaven. Or it was, at least. Beloved Rent couple Idina Menzel and Taye Diggs met while starring in the original production of the show in 1995, marrying in 2003, and welcoming their son, Walker, six years later. But by 2013, the couple had called it quits. And while fans were devastated over the breakup, Menzel went on to wed her (and Diggs') co-star Aaron Lohr from the 2005 film adaptation of Rent.
7. Fergie and Josh Duhamel
Couple of 13 years and parents to Axl Jack, Josh Duhamel and Fergie publicly announced their separation in September 2017 (according to reports, they privately split in February) after "leading separate lives for a longtime." And in all honesty, no one seemed as shook as Fergie herself. While appearing on The Wendy Williams Show, she broke down mere days after their statement.
It wasn't my plan. I wanted to stay married forever. I love Josh, he's the father of my child … You're making me cry.
8. Jennifer Garner and Ben Affleck
During his 2013 Oscar acceptance speech for Argo, Ben Affleck thanked Garner, saying, "I want to thank you for working on our marriage for 10 Christmases. It's good. It is work, but it's the best kind of work, and there's no one I'd rather work with." But despite constant gushing in the press, the A-list power couple announced their separation in 2015. Yep, if you needed a reminder, Jen and Ben divorced. And I still have not recovered. She is a national treasure!
9. Logic and Jessica Andrea
Fans fell in love with "1-800-273-8255" rapper, Logic, and his wife, Jessica Andrea, at the 2017 VMAs. But despite their sweet Instagrammable relationship, Logic released a shocking breakup announcement following his Bobby Tarantino II album drop. "There are no sides, there is just us. Two people who loved each other in marriage and will continue to love each other for the rest of our lives," he wrote. The pair confirmed their amicable status after Andrea tweeted, "I love you Bobby. And love to all the fans!" Her now-ex responded, "I love you Jess! You're my best friend."