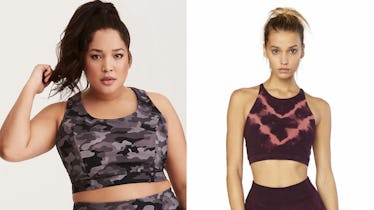 Support Your Good Vibes & Your Boobs With Any Of These 9 Sports Bras
Torrid/Electric & Rose
There are few feelings worse than an accidental nip slip during yoga class. Furiously trying to use one arm to adjust your sports bra while you're in downward facing dog just isn't a good look, nor is it a good feeling. Honestly, though, you don't have to live that way — and neither do your boobs. Let's face it: Some sports bras definitely weren't made for yoga, but that doesn't mean there aren't any sports bras for yoga that actually support you. Lucky for you, I've rounded up a few that will be there for you through thick and thin, not to mention the bendiest and most challenging of asanas.
After all, the last thing you should have to think or worry about during a relaxing yoga flow is the status of your boobs. With the right sports bra, you won't have to think twice about flipping upside down into a headstand, nor will you have to freak out about the wrath of boob sweat during hot yoga. Guys, there are even sports bras with built-in gemstones, and I'm so here for those good vibes.
Whether you're hitting up an advanced vinyasa class or restoring your body in a super chill yin session, your boobs deserve as much TLC as you're giving the rest of your body and your mind by attending yoga class — so give it to 'em, girl. Here are nine sports that'll cover all the bases when it comes to supporting both your good vibes and your boobs in yoga class.