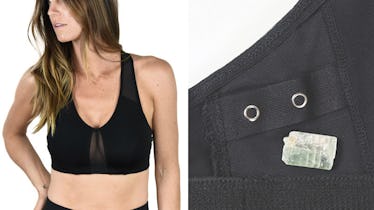 These Bras Are Made With Healing Crystals To Enhance Your Good Vibes & I Need All Of Them
I've always been a big fan of healing crystals, and you can gather that about me immediately upon entering my bedroom, where you'll see 15 little gemstones lined up along my windowsill. I use these little rocks for just about everything, and I always have a few tucked in my pocket or floating around in my bag. But it's never really occurred to me to bring them along to my workouts or yoga classes — until, that is, I stumbled upon lingerie brand Max & Vera's Intentions sports bra, which comes with a crystal that's literally tucked right into the side of the bra.
Now, like I said, I've never really considered bringing along any of my crystals with me to yoga, or any workout for that matter, but now that I know this is a thing, I have no idea why I haven't tried it sooner. Although, honestly, the fear of potentially losing one of my sacred gemstones would probably just be too distracting, despite all the awesome, energetic vibes I'd be reaping during my sweat sesh.
But hey, that's what makes Max & Vera's crystal sports bra so awesome; the stone is safe and secure inside the fabric itself, so that little guy isn't going anywhere, no matter how intense my vinyasa sessions get.
Max & Vera actually offer a wide variety of different bras, all of which come with crystals — but my eyes were glued to the Intentions Sports Bra, which includes a lovely green crystal tucked inside a snappable pouch.
Intentions Sports Bra, $68, Max & Vera
The Intentions sports bra is perfect for pretty much any exercise in your workout, from a slow and nourishing yoga flow, to a fast-paced and heart-pumping HIIT circuit, and the crystal, which is a raw green kyanite, is contained in a discrete mesh pocket, so you can be sure it won't go anywhere while you're doing your thing at the gym.
Max & Vera designed this sports bra to keep the raw green kyanite stone "close to your heart," because this specific healing crystal is said to be associated with the heart chakra (chakras are energy centers in your body, BTW). According to the Max & Vera website, heart chakra healing crystals, such as the raw green kyanite in this bra, bring balance and stability to your life, inspire hope and clarity, and bring you into harmony with the world around you. To me, that sounds like an absolutely incredible way to complement a fluid, fast-paced, and heart-opening vinyasa yoga flow.
What's even cooler about Max & Vera is that the brand says you can hit them up whenever you want if you're looking to swap for a different crystal that ~speaks to you~.
Crystal Charms // Add ons for Charm Affirmations Bra, from $2, Max & Vera
They even have pre-made, snap-on crystals, as pictured above, that you can clip onto literally any bra you own. Max & Vera recommend using these specifically for the brand's own charm affirmations bralette, as the bra has an area specifically designed to clip the stones to. Personally, though, you could easily make these work with any old sports bra, if you want to try a little DIY action.
Amethyst, rose quartz, and moonstone are just a few of the beautiful healing crystal charms that Max & Vera offer, and TBH, these are the ones I can easily picture making their way onto my own sports bra, and the ones I'd want to remain close to my heart during a luxurious yoga flow. Amethyst is said to help with anxiety, while rose quartz instills a sense of unconditional love in all who hold or wear the stone, and moonstone is perfect for amplifying the energy of the new moon. It's a pretty powerful trifecta, wouldn't you say?
Maybe you want to amp up your energy and inspire mental clarity for a workout with Max & Vera's Intentions sports bra, or perhaps you want to purchase one of the brand's crystal charms to clip to one of your own bras and empower yourself during a grounding yoga flow. Either way, this Californian company is completely ~zenning out~ the athleisure game for fitness-forward females everywhere.