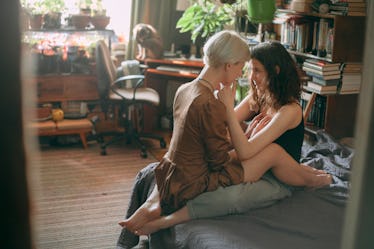 9 Sex Moves To Try On Summer Vacation, So You Can Seas The Day
Summer is here, which means, with any luck, vacation is right around the corner. If you're looking to get frisky this summer, you might be seeking out some sex moves to try on summer vacation, and I got you covered. In my opinion, the best part of vacation is that you get to break your routine, and that doesn't just mean the time you wake up — you get to try new things in the bedroom (which could also refer to the time you wake up, but I meant sex, OK?). For tips on how to spice it up on vacay, I have some sex move ideas for you.
Trying a new sex move can be daunting. If you're anything like me, it's hard to find one you like, and it can take some practice. Still, I've found I love a lot of moves that I didn't expect to (namely, my all-time favorite, where a guy lies on his back, puts his legs in the air, runs his hands up and down my spine, and I watch HBO). But seriously, trying new things is a great way to find new turn-ons (although, if you're satisfied with the moves you have, that's amazing too). Please note that none of these sex positions require specific anatomy — everything can be adjusted to use sex toys, fingers, or alternate holes, if that's more your style.
If you're looking to experiment sexually this summer, read on to find nine new sex moves to try on summer vacation.