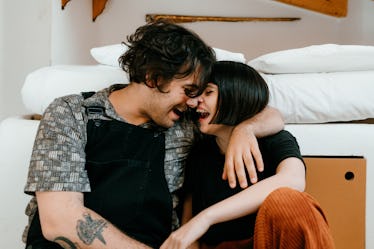 9 Questions You Should Ask On Each Date, So You Can Come Prepared
You're going on a date tomorrow. Maybe it's a first date, or maybe it's a seventh (good for you!), but either way, you're likely to have to make conversation with the person sitting across from you (or bowling in front of you, or hang-gliding below you — I don't know your life!). One easy trick for making conversation is to ask questions (this seems obvious to me, but I have met men, so, you know), so whether you know someone well or you've just met, I made a handy list of questions you should ask on each date.
Questions on a date are a great way to get to know someone because you get to bring up topics that might not come up seamlessly in conversation. For example, I once asked a guy if he had any pets, and it turned out he had a chinchilla, which is something I never would have learned had I not asked (he assured me they were legal, but he also seemed like he didn't want to talk about it, so who knows). Just remember — if you've asked someone one of these questions before the specified date number, that's totally fine! These are just ideas, but only you know how the cadence of the date is going and what questions are good to ask.
Read on to find nine questions to ask on each of your first nine dates to really get to know someone!