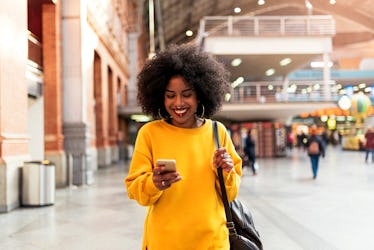 9 Questions To Ask Your OkCupid Match To Get You Bonding Offline ASAP
Shutterstock
You're brushing your teeth while getting ready to go out when you hear a small "ding." It's not an alarm. It's not a text. And it's certainly not an Instagram notification (your $4 Mindfulness app told you to turn those off a month ago). You grab your phone, mouth still full of Arm & Hammer Advanced White, and realize that the cutie on OkCupid you've been crushing on finally liked you back. But you realize you need to think of some questions to ask your OkCupid match before you get completely swept up and start visualizing the mason jars you'll have at your farmhouse wedding,
"OkCupid gives you thousands of questions to help you match on what matters to you, so there's a lot of conversation starters to help you out," Melissa Hobley, global chief marketing officer at OkCupid, tells Elite Daily. "Look at their OkCupid profile and comment on something specific that you like."
According to Hobley, a first message that just says, "Hey" has an 84% chance of being completely ignored. That's like missing 84% of the shots you did take. And while penning the perfect opening line may seem daunting, worry not. I have compiled nine creative questions for you to ask your OkCupid match. You're welcome.