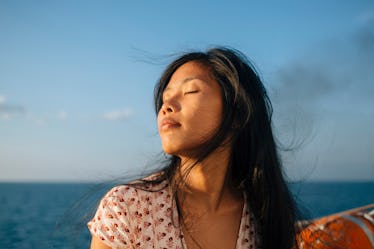 9 Places To Travel In 2018 If You Absolutely Love Nature, But You Live In A City
I would love nothing more than the upcoming new year to be filled with travel — and hopefully, to many places of natural beauty. Since I live in New York City, it can be particularly difficult sometimes to feel in touch with the outdoors in the midst of this concrete jungle. So if you, like me, want to pinch together some pennies and find some dream places to travel in 2018, I'm here for you.
Getting yourself out into nature every once in a while is so important for your well-being, and the thing we city-dwellers in particular must face is this: Apparently, people who live in and around nature are generally much happier. Research shows that nature not only makes us feel happier, but our brains are actually wired to be outside, instead of, you know, jam-packed in a subway car or on the concrete sidewalks breathing in pollutants.
Now, don't get me wrong, I'm a city gal at heart. But part of my heart undeniably longs every day for Mother Nature, so I make sure to get out of the Big Apple whenever possible to pay a visit to the great outdoors. It enhances my well-being, shifts my perspective, and yes, it definitely makes me a happier every time I do it.
If you're in the mood for exploring come the new year, get yourself a coin jar and start saving up now for a trip into the wild, wild world — or at least for a train upstate.