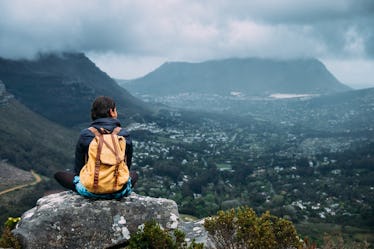 10 Travel Resolutions For 2018, Because It's About Time You Satisfied Your Wanderlust
2018 is almost upon us, and with the arrival of a new year comes everyone's favorite thing: the impossible task of coming up with resolutions for the next 12 months. If you're anything like me, resolutions stress you the f*ck out, because it can feel like you're trying to come up with ideas out of thin air. But I've found that it helps to hone in on a sphere of your life that often goes ignored. For example, you could create a list of travel resolutions for 2018, because who wouldn't benefit from a little more wanderlust in life?
When you focus on travel as a point of emphasis, your whole world opens up (pun intended). And, mind, you, travel doesn't have to be expensive or exhausting. In fact, if you take the time to prioritize and plan for it, you can get the satisfaction of travel without the stress of flying across the world or spending thousands of dollars. Unless you want to fly across the world, in which case, right on, girl.
In a world that has become increasingly politically divisive and intolerant, nothing can help bridge the gaps of empathy faster than immersing yourself in different cultures and languages, or even getting to know a different "universe" inside of the culture you currently live in. Here are 10 travel resolutions for 2018 that will satisfy your wanderlust, regardless of your budget.