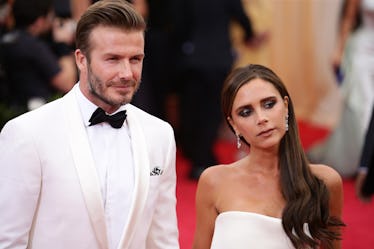 9 Photos Of David & Victoria Beckham's Most Adorable Moments As A Couple
Neilson Barnard/Getty Images Entertainment/Getty Images
Can we all take a break from drooling over photos of the royal baby for a second and get back to obsessing over my favorite Brits? The Beckhams, I mean. There are way more photos of David & Victoria Beckham than there are of His Royal Highness Prince Louis of Cambridge, anyway.
The former Spice Girl and retired soccer player first met in 1997 in the players' lounge after one of David's games. He admits that he was too nervous to ask her out so he just waved awkwardly from across the room. It wasn't until she attended another game (do I sense a stealth strategy here?) a week later that he approached her.
In a letter to her 18-year-old self published by Vogue UK, Victoria recalls, "While the other football players stand at the bar drinking with their mates, you will see David standing aside with his family... And he has such a cute smile... He's going to ask for your number. (He still has the London-to-Manchester plane ticket on which you wrote it)." Obviously, when the Spice Girls sang, "Say You'll Be There," they meant for the next 20 years.
In fact, it was in that music video that David first laid eyes on the love of his life. In late 1996, while watching TV after a game, David turned to his Manchester United teammate Gary Neville and said (about Victoria), "That one there, that's the girl I'm going to marry."
Sure enough, the two welcomed their first son Brooklyn in 1999 and tied the knot just a few months later. Together, they've been through major career transitions, cheating scandals, and trans-Atlantic moves. They have four children (Brooklyn, Romeo, Cruz, and Harper), a combined net worth of $450 million, and an unbreakable bond. Just last year, the happy couple renewed their vows and, most recently, they celebrated David's 43rd birthday with a special surprise by Victoria and Brooklyn.
Um, hey Posh, Becks. Quick question. How do you guys feel about adopting a fully-trained 26-year-old? I grew up in the Caribbean so I can revert to spelling "favorite" the way you do in a heartbeat. Say I can be your favourite kid, please?
It was worth a shot.
Anyway, these two may have gone Hollywood but they're not leaving each other or their family behind any time soon. Here are nine of the cutest moments Posh and Becks have shared over the years.