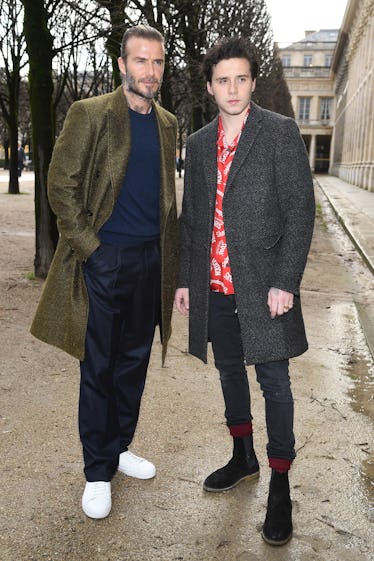 Brooklyn Beckham Surprised His Dad For His Birthday & The Video Will Have You In Tears
Pascal Le Segretain/Getty Images Entertainment/Getty Images
If you feel like crying happy tears, then I've got some fantastic news for you. Plus, it involves the Beckham family, which is actually like a two-for-one if you ask me. David Beckham's birthday was on May 2, and his wife, Victoria Beckham, helped coordinate an adorable birthday surprise: having their son, Brooklyn, sneak up at a restaurant the family was eating at to see his dad for his birthday. Of course, Victoria Beckham captured the whole thing on film, and the video of Brooklyn Beckham surprising David Beckham will warm your heart and fill you with pure joy.
The former footballer was out with out with his wife (AKA Posh Spice) for a nice birthday dinner, but what Beckham didn't know was that his wife was secretly filming their oldest son, Brooklyn, walking through the doors of the restaurant.
In the video, you hear her say, "David," and points the video to the restaurant's front door. Brooklyn immediately goes over and hugs his VERY SURPRISED dad, who kept saying, "What are you doing here?"
And the look on David Beckham's face when he realizes who it is... oh my God, my heart, y'all. It is just so damn sweet.
"Happy birthday. I just landed," Brooklyn said, while continuing to hug his dad.
"I didn't know you were coming," David said, to which Brooklyn replied, "I missed you so much."
I am in a literal glass case of emotions, people!
They hug for a bit longer while Victoria films it, and we hear daughter Harper chime in and say: "I didn't know Brooklyn was coming!"
Victoria Beckham posted the whole video to Instagram, with a caption that read,
The biggest surprise of the day.... Welcome home @brooklynbeckham X happy birthday @davidbeckham I love u so much x kisses
Is it too late to try and join their family? If it's not, I'd like to submit my application, please.
Victoria Beckham must have really had David fooled, because on his birthday, she posted a birthday message to him, wishing him a happy birthday but also adding that they wished Brooklyn was there to celebrate. She wrote,
Happy birthday to the best daddy!! X we all love u so much!!! So many kisses from us all xxxx we miss u @brooklynbeckham X
Sneaky, sneaky, Posh Spice!
And I just want to give the Beckhams a round of applause, because after nearly two decades of marriage, it seems like they're just as in love with each other as the day they met, which is not easy to find when you're a celebrity. So, how do they make it work?
Apparently, the secret to their marriage is to have someone who is supportive of you, and respects your time as much as you respect theirs. In Victoria Beckham's interview with Elle UK, she said of her husband,
He's great. During fashion week, when I'm working, the children will be in New York and he's already planned to take them to museums then out for dinner on Saturday night, so he is very good at that sort of thing – as am I. That's how you can show your support in a marriage, by saying, 'You know what, I've got this.' That's what makes a good partnership.
I can totally picture David Beckham taking his children on a night out on the town to a museum and a nice dinner. I'm really not kidding, if there's even the slightest shot of getting adopted into their family, I am absolutely taking it.
Beckham continued, noting that despite how busy their lives are, they always find the time to sit down and just — get this — talk.
She said,
David and I both respect that each of us are very, very busy; we are both running big businesses, but we do put the phones down, and sometimes we just talk. When David was on Desert Island Discs on Radio 4 recently, it was great to sit as a family and listen.
I know that's such a normal thing to do, but hearing Posh Spice say it places it in a different category entirely.
If you didn't want to be a part of the Beckham family before, I'm almost positive you've changed your mind. So take a number and get in line and wait like the rest of us, and perhaps one day, they'll take one of us mere mortals under their wings and into Beckham royalty.