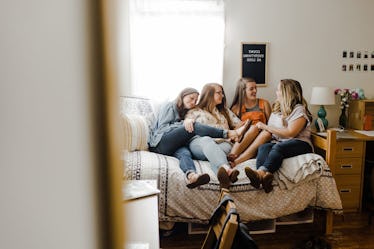 9 Myths About Dorm Life That'll Instantly Make You Less Scared Of Your RA
When you're heading off to college, you deserve to enter with a clear head. You shouldn't let myths about the next four years of your life impact your decisions — especially your living situation. Are you calling the dorms your home sweet home this year? Let's debunk myths about dorm life before you end up believing your room is haunted, or your RA is out to get you.
You're going to have roommates. You can still sing in the shower and stash your favorite midnight snacks in the pantry. Depending on your personality and relationship with them, you may end up sharing those Flamin' Hot Cheetos and Oreos.
Are there rules in the dorms? Most definitely. I mean, how absurd would it be to let a bunch of kids, barely given their adult wings, the right to fly all over the place? Be thankful for those rules. Also, stay away from movies that depict this college culture that isn't completely accurate.
There will be times when you get locked out of your room, or you're forced to safe harbor the delicious leftovers you have from when you went home over the weekend. The situations will vary, but they'll be your own. Myths can be entertaining to hear, but don't let these nine make you nervous about the dorm life.