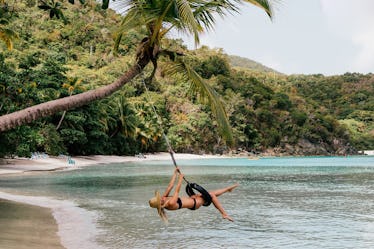 9 Private Islands On Airbnb You & Your Girls Can Actually Afford For Your Next Trip
Whenever I'm planning a trip with my friends, we often go back and forth over where to travel to, which hotel is the most affordable, and so on. However, we live in a world where there are a ton of house, condo, and apartment rental sites out there, which makes travel planning easier than ever. From remote cottages off the coast of Canada, to luxurious penthouses in Dubai, there are plenty of options, but I bet you didn't even consider islands to rent on Airbnb. Moral of the story? Next time the travel bug hits, run with it and go!
Plus, what better way to relax and escape from the hustle and bustle of daily life than doing it on your own private island? The best part? It's actually super affordable. So, whether you're looking for a luxurious tropical oasis, a new inexpensive city to visit, or even a last-minute Fourth of July getaway, Airbnb's wide range of options has you covered.
There's only a few things left to do from here: grab your girlfriends, pack your bags, and choose one of these private islands to rent. Get ready to sit back, relax, take some Insta-worthy shots, and be one with nature.