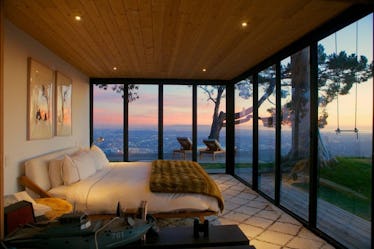 5 Breathtaking Airbnbs To Book Right Now For Your July 4th Trip With Your Partner
Most Fourth of Julys, I'm lucky enough to take advantage of my friends' success and visit their summer homes in the Hamptons or on the beaches of Massachusetts. OK, so now that I've acknowledged my enormous privilege, can I complain for a sec? Heading to a trendy waterfront destination means a one-way ticket to traffic hell, even if you leave at the butt crack of dawn. If you're bringing your SO, you also won't have much privacy. Solution: find Fourth of July Airbnbs in cities that have probably emptied out for the weekend — er, Wednesday — to minimize the grind for you and your partner.
I started by searching for Fourth of July getaways by looking at available Airbnbs in destination spots that feel classically American — you know, anywhere outdoorsy with a deep sense of history and local food you can dip in butter.
From a house with cozy fireplace in Nashville to a swing with city views in Los Angeles, here are the most intriguing, beautiful, and patriotic Airbnbs for you to cuddle up in with your cutie.