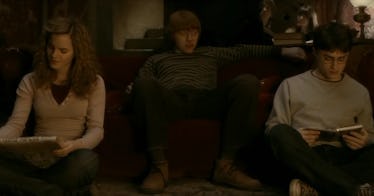 9 'Harry Potter'-Themed Things To Do With Your Fellow Potterheads In The Fall
There's something about fall that has you filled with nostalgia and longing for your Hogwarts acceptance letter to finally arrive in the mail. You want to feel cozy with the change in weather, so break out your house-themed scarf and fly into the wizarding world by planning a bunch of Harry Potter things to do in the fall with your besties.
I truly believe that fall and Harry Potter are MFEO like Hermione and Ron. It's the time of year where you would be taking the Hogwarts Express to school anyway, so why not revisit your favorite books and movies? I'm always looking for an excuse to hang out with my friends, and this fall, I want to fill up my weekends with back-to-back fun.
If your very own Hogwarts letter somehow got lost in the owl delivery, that doesn't mean you can't still experience a little bit of magic. All you need to do is get your fellow Potterheads together and do any of these nine Harry Potter-inspired activities. Some of the activities on this list are a must for any fan to try at least once, so go ahead and solemnly swear you'll be "up to no good" this season.