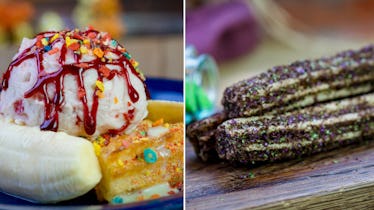 All Of The Halloween Churros At Disneyland You'll Want To Trick Or Treat Yourself To
Out of all the iconic Disney treats out there, churros are hands-down my favorite. Mickey ice cream and popcorn are great and all, but there's just something about those fried cinnamon sticks that let me know I've truly arrived at the most magical place on Earth. If you're also a huge fan of the churros, you'll be happy to know that beginning Sept. 7 for Halloween, the sweet treat is getting a spooktacular makeover. Along with the many other creep-tastic treats available in the parks for fall, you'll want to add Halloween churros at Disneyland to your foodie to-do list.
In the past, you've likely salivated over the peppermint hot chocolate churros, and snapped artsy pics of the lightsaber-themed churros. (It's safe to say Disneyland takes their churro game very seriously.) These treats are always Instagram-ready, so you'll definitely want to take pictures of these nine Halloween-inspired ones before getting your fangs in them. Along with delicious flavors like candy corn and pumpkin spice, Disney is offering a bunch of Halloween-colored churros that will make your followers swoon. So, grab one (or grab them all, if you're like me), snap a couple of pics, and celebrate that it's finally Halloween time at Disneyland.