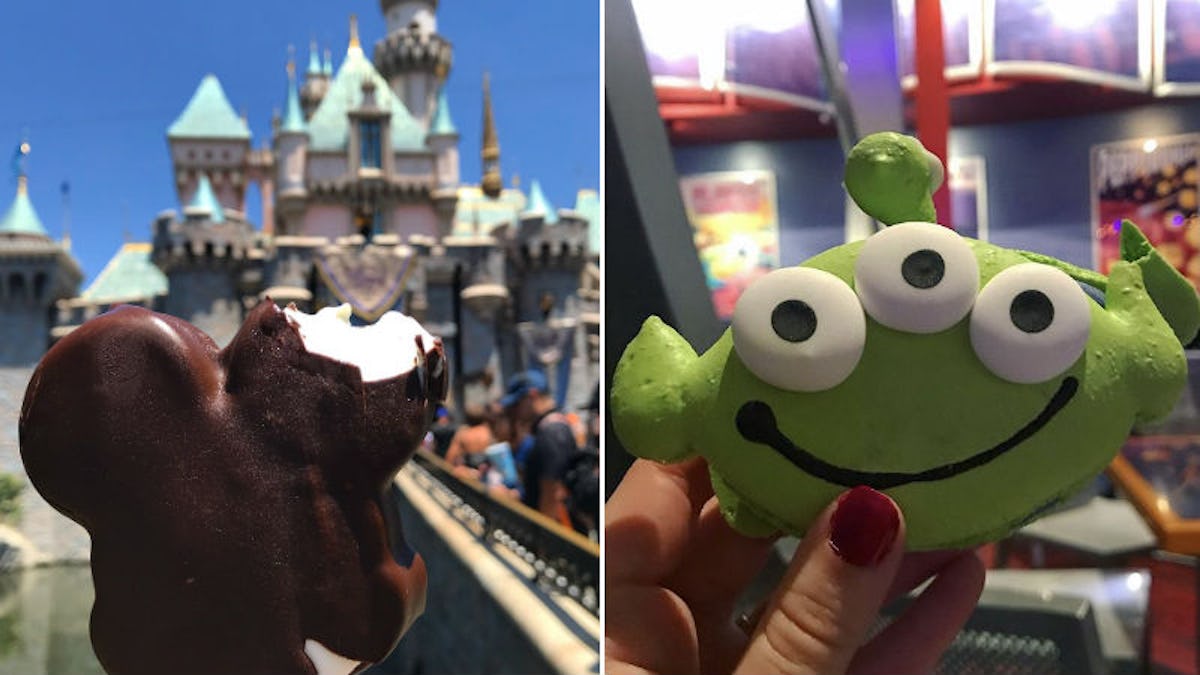 20 Instagram Captions For Disney Food That's Mickey-Shaped & So Magical
Some people believe Disney vacations are all about the rides and characters, but you have different priorities. With a variety of Insta-worthy foods — including (but not limited to) churros, ice cream, popcorn, and corndogs — you embark on your journey to Disneyland with an appetite ready to munch. It's not just the iconic Mickey-shaped snacks everyone knows and loves — you also get stoked for every new limited-time food item that shows up for holidays and events. When it comes to Disney food, there's one rule you always follow: Snap a pic before you take a bite. You'll remember your favorite snacks forever when you snap a few pictures, paired with some Instagram captions for Disney food.
Actually, most of the Disney accounts I follow on Instagram are food-related ones. Sure, I love to see a good Disneybounding or character meet and greet, but what I really want is just a pic of any brand new donut or flavored churro that has made its way on the menu. I've even started my own Instagram to document all the foods I eat at Disneyland.
If you're on your own edible journey through Disney, you'll need these 20 Disney food captions for when you want to post to the 'Gram. You'll have your hands too full of churros and popcorn buckets to come up with the words on your own, so I did the hard work for you. Now, it's time to post and get back to eating, which is truly the Hakuna Matata way.
1. "This much I know. If you are what you eat, then I only wanna eat the good stuff." — Ratatouille
2. "Food is our common ground, a universal experience." — James Beard
3. "What could be more important than a little something to eat?" — Winnie the Pooh
4. "People who love to eat are always the best people." — Julia Child
5. "If it's Mickey-shaped, I want to eat it." — Unknown
6. "Only eat my food Mickey-shaped." — Unknown
7. "Try the grey stuff it's delicious. Don't believe me, ask the dishes." — Beauty and the Beast
8. "Calories don't count at Disney." — Unknown
9. "Be our guest." — Beauty and the Beast
10. "My dream wouldn't be complete without you in it." — The Princess and the Frog
11. "Everything tastes better when it's Mickey-shaped." — Unknown
12. "Rumbly in my tumbly." — Winnie the Pooh
13. "Time for something sweet." — Winnie the Pooh
14. "Oh, this is the night, it's a beautiful night. And we call it bella notte." — Lady and the Tramp
15. "I wasn't going to eat it. I was just gonna taste it." — Winnie the Pooh
16. "You know the thing about good food? It brings folks together from all walks of life. It warms them right up and it puts little smiles on their faces." — The Princess and the Frog
17. "I'm sorry for what I said before I had my Mickey-shaped ice cream." — Unknown
18. "Ate it for the 'Gram." — Unknown
19. "Chim chiminey, chim chiminey, chim chim churro." — Unknown
20. "Are there fast passes to churros?" — Unknown