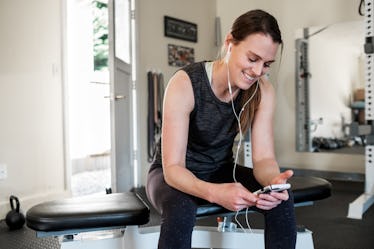 9 Gym Hacks For Beginners Who Want To Feel Comfortable & Confident With Their Workout
I didn't step inside a gym for the first time until my mid 20s. Dancing or yoga was always my first choice for movement, or I would just pop outside and take a jog or a walk. But when I moved to New York and my life got really busy, joining a gym seemed to be the most logical and cost-effective way to be able to exercise whenever I could fit it in my schedule. This also meant figuring out some gym hacks for beginners that helped me to feel a little less intimidated when I walked into Planet Fitness with no clue what I was actually doing.
While I've been a gym-goer for a while now, I still have plenty of days where I go into a workout feeling low on confidence for one reason or another, or, when I start a new routine or fitness class, it's just hard not to feel like a noob all over again, you know? Everyone has these days. But for real, it's been super helpful to keep a little bag of tricks and tips on-hand to make it as simple as possible to feel good — and at least a little badass — while I'm working out. Because that is, after all, why I'm doing it in the first place.
If you're en route to the gym as a beginner, try out some of these little hacks for yourself to help you get the most out of your workout routine.