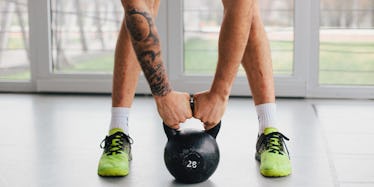 What Workouts To Try When You Need A Break From Your Fitness Routine
Ever heard a story about experienced runners having a hip dislocate on a long run? Beginner fitness goers pulling muscles for choosing a demanding workout? Weight lifting lovers getting hunchbacks from solely lifting weights at the gym?
While we all have our chosen workouts, it's important to try a complimentary workout to give a healthy edge to your fitness routine. For example, if runners are having joint issues, at times they need to switch gears to workouts that are easy on the joints.
If beginning fitness goers are pulling muscles too soon, they need to veer to workouts that allow muscles to heal. If weight lifting lovers are getting hunchbacks, they need to try workouts that help posture.
With that said, we bring in the experts. Physical Therapist Karena Wu and Orthopedic Surgeon Dr. David Neuman, co-authors of the new health book and website "Pop-Doc," are sharing their input on the popular fitness classes to try that'll give a healthier edge to your workout routine. They even have some safety tips along the way:
Need something easy on your joints?
Do SoulCycle. Dr. Neuman says,
Cycling does not involve impact forces across the joints, and therefore there are less joint reactive forces across the joints. Less forces across the joints may prolong the life of joints.​
Do Pure Barre. Pure Barre is an effective workout that focuses on women's problem areas: hips, thighs, glutes, abs and arms. Wu says,
Their technique avoids any bouncing or jumping, thereby protecting your joints as your strengthen around them. It's effective because it strengthens and immediately stretches to create long, lean muscles and avoid the compression in the joint if you don't stretch after.
If you're looking for total body exercise that yield the dancer's long lines, this is the workout for you.
Need something that allows muscles time to heal?
Do Barry's Bootcamp. Dr. Neuman says,
This group workout offers a unique experience and attempts to change up the workouts daily, so the body can work different muscle groups on different days. This can allow for the other body areas to recover while other areas are getting a workout. Just remember to use proper technique and don't overdo your workout.
Need something to keep your heart rate up?
Do Orangetheory Fitness. According to Wu,
Orangetheory's method is that they give you a heart rate monitor to wear at their classes so that the entire class reviews their own performance on a few screens. You see everyone else's status, which inspires you to keep up with and 'win' in the class with your best performance.
Do Zumba. Zumba is another group-oriented workout that focuses on bodily health and wellness, but in this class, you're dancing your way to the goal line with Latin music. According to Wu,
It's a cardiovascular workout with a serious element of fun because of the music and dance moves, which means your practice in the class translates to showing off on the dance floor.
So, if you're looking get your heart pumping, strengthen your limbs and learn some fancy footwork, this is your class.
Need something to help with your posture?
Do hot yoga. Here, you're surrounded by an intense heat environment that helps with cleansing your body and your internal fluid movement. According to Wu, this fitness class has a lot of static poses, so it requires a lot of stability and balance. Wu also recommends hot yoga over any of the other popular fitness classes because it is more centered on body awareness and posture.
Need something to strengthen your arms and legs?
Do Flywheel. Flywheel is an innovative take on indoor cycling and includes a component of upper body exercises. Dr. Neuman notes that Flywheel can help make your upper body more conditioned, toned and flexible if done in a controlled fashion with the right amount of weight.
With all of the above, Dr. Neuman notes that the danger with any exercise is when you exercise too often during the week, exercise with too much force or weight and exercise without proper technique.
Doing these three things can lead to joint irritation and inflammation, joint swelling, pain stiffness and daily pain. So, above everything else, both Dr. Neuman and Wu stress that you should really listen to your body and take a break when your body gives you the signal.