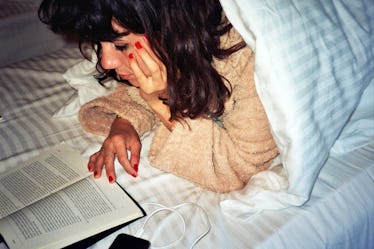 9 Inspiring Books To Read In The New Year To Help You Fulfill All Your Resolutions
The new year is only a few weeks away, and with its arrival will come the promise of some new beginnings, as well as those pesky, but annually persistent resolutions. I don't know about you, but I often steer clear of making resolutions out of fear that I won't stick to them. But this year, I've decided to say to hell with it, and set some new year's intentions rather than resolutions. If you want to get on the bandwagon with me, consider some of these books to read in the new year that will inspire you from the inside out — either by giving you helpful pointers about navigating this weird thing called life, or by simply reminding you that what you want is always worth the commitment and resilience, no matter how difficult it may be to stick to your path for change.
Remember, new year's resolutions — or as I'm calling them, new year's intentions — don't have to be specific tasks to accomplish, like always keeping your room clean or cutting out dairy. And sure, if those types of goals work for you, more power to you. But new year's intentions can also include things like focusing more on friendships, making regular gratitude lists, or even making a commitment to volunteer.
Whatever it is, take a look at a few of these books, and make room for the best kind of inspiration to keep you committed to your goals as we move into 2018.