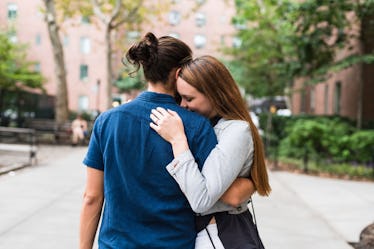 9 Women Reveal The Most Bittersweet Part Of Their Last Breakup & It's So Relatable
No one ever said breakups would be easy. In fact, they can be utterly grueling, debilitating, and confusing, even under somewhat amicable circumstances. Bittersweet breakup stories remind us of how devastating splitsville can be. When you dump someone you don't totally hate or are on the fence about whether ending things was the right decision, it can make parting ways extra hard.
A breakup is a breakup, even if you uncouple consciously. In reality, choosing to cut ties with your sweet someone might feel like one of the hardest things you ever have to do. Many women are left wondering whether they made the right choice. Others know breaking up with their partner was inevitable, but they're still left with an empty, lost feeling. As the cliche goes, "If you love someone, set them free." Well, that's certainly easier said than done, am I right ladies? Time will certainly heal a broken heart, but that might be the last thing you want to hear if you've recently broken up with someone.
Before you reach for the ice cream and hit play on your breakup anthem, check out these bittersweet breakup stories. I spoke with nine women who shared their experiences about parting ways with someone they loved, and let's just say they're heartbreakingly relatable.