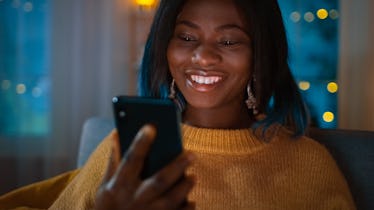 9 Best Disney iPhone Games To Pass The Time In The Most Magical Way
Shutterstock
Nothing makes the time fly quite like an iPhone game. Whether you're chilling at home or commuting to work on public transportation, you might want to download some of the best Disney iPhone games for some serious fun. Featuring a lot of your favorite Disney characters, these games are not only entertaining, but super cute as well. They're perfect for a true Disney lover who's looking to pass the time in the most magical way possible.
There are different types of games for whatever you're looking for. If you're someone who likes to complete puzzle after puzzle, Disney's got you covered. There are also action games and interactive ones. Disney even has an iPhone game where you can create your very own Magic Kingdom, so it'll be like you're at the parks even when you're relaxing on the couch at home.
These games are perfect to play when you're at Disneyland and want to pass the time while you're waiting in line, but can also be played every day when you have some downtime. Challenge your friends to a little game night together as you try to get the highest score. If you've got the space on your device, download all of these nine iPhone games right now, or choose the one that's calling your name the most. Either way, you're in for some certified Disney fun.