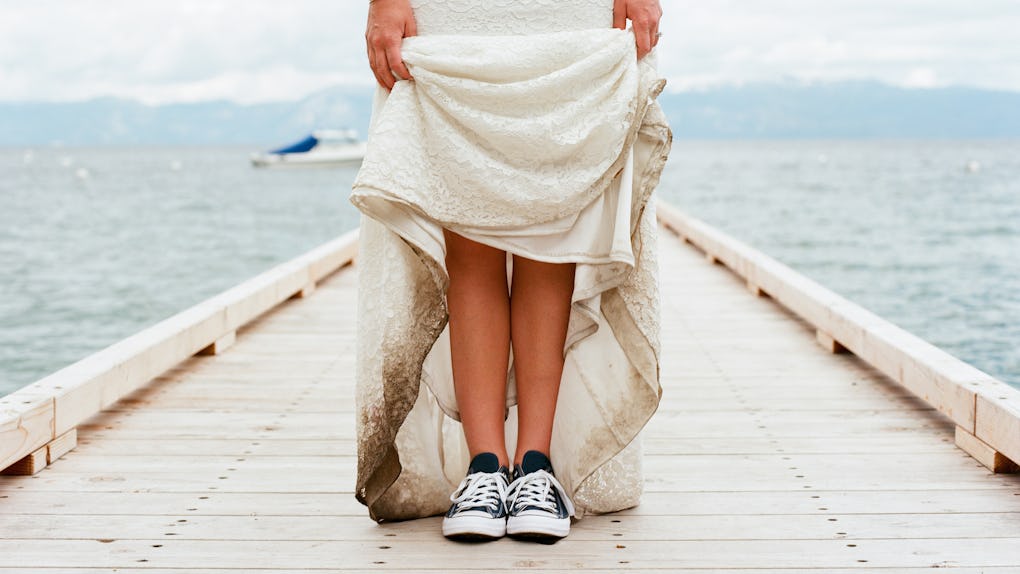 Ryan Tuttle/Stocksy
8 Wedding Dress Horror Stories That Will Make You Say Yes To The Stress
If you've ever ripped your pants on the subway or spilled red wine on your new tan shirt, you may already know the panic of public clothing malfunctions. Of course, when it's your wedding day and you're standing in front of friends and family in a beautiful gown — a tear, spill, or zipper mishap can be a literal nightmare come to life. If you're looking for some solace in your wedding planning stress, these wedding dress horror stories might be everything you need.
Of course, you will be a beautiful bride no matter what you wear. And if wedding planning may be taking over your life, once you've tied the knot and exchanged your rings, coordinating your vendors and checking your guest list will be far in the past. From seamstresses running behind schedule to natural body changes during your wedding planning, there are many reasons your wedding dress may be a source of some serious wedding stress.
But rest assured, these eight wedding dress horror stories are sure to make you feel a little less alone and a lot more calm in your pursuit for the perfect wedding — because if these brides made it through, you can too.