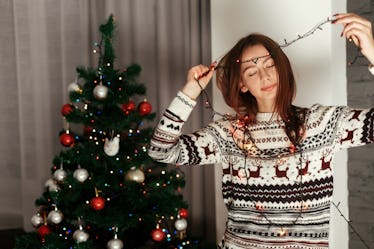 8 Dreamy Ways To Decorate With String Lights To Ensure Your Holiday Is Merry & Lit
Most people wait until after Thanksgiving to break out their holiday decor, but with each passing year, I feel myself getting way too antsy. Let's be honest: your boxes upon boxes of string lights in the back of your closet are calling your name, and they're ready to deck the halls. If you love to get creative each year, you should definitely look up some fun ways to decorate with string lights to ensure your holiday is merry and oh-so-lit. You can turn your apartment or home into a winter wonderland in a matter of seconds with the right set of string lights and a creative DIY mindset.
You simply cannot have a merry and lit holiday without some lights, and you don't have to do just the traditional lights on a Christmas tree with these eight different ways to decorate with string lights. When your friends come over, they'll think they've stepped into the North Pole.
Most of these decorations can work year-round as well, so you can totally leave up your holiday decorations even after everyone takes theirs down. Needless to say, you can really take advantage of those post-Christmas string lights on sale. Now I know my need for twinkly lights doesn't have to be contained for most of the year. Come on out string lights, it's time for you to spread some holiday cheer.