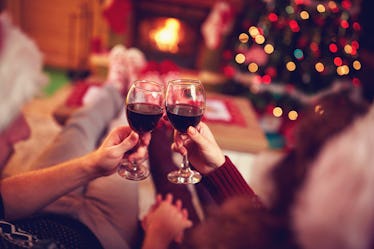 8 Ways To Decorate Your Christmas Tree If You Love Wine
When you drink wine, everyday is basically Christmas. That liquid magic is one of the greatest gifts you can enjoy year-round, but it can also be incorporated in the actual Christmas holiday if you're a true wine lover. There are many of us out there who are probably already thinking of how to decorate a Christmas tree if you love wine, and it's time to put that creativity to work. You're probably involuntarily stocking up on one of the most resourceful accessories as we speak — corks.
The sound of a cork popping from a bottle is music to any wine lover's ears, and now, that very thing can be used when we are decorating our Christmas trees. Wine lovers don't technically get a holiday dedicated to just wine, so they've got to make the most of what they can get. Yes, picking out the table wine for holiday functions is a notable role, but now it's time to really intertwine your love for wine and the holiday spirit.
The same way wine pairs well with certain foods, it also does wonders for any holiday. Christmas specifically will make great use of all of the contents that go into creating a miraculous bottle of wine. As much as wine alone is inspiration enough to jump right into a DIY project, sip from your festive glass, and take notes on how to put the "win" in wine while decorating for Christmas this year.