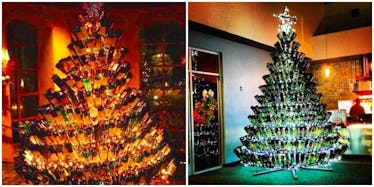 People Are Making Christmas Trees With Empty Wine Bottles, So Drink Up
Instagram
To all of my fellow wine aficionados out there, this holiday trend was literally made for you.
People on Instagram had the genius and super festive idea of contributing their used wine bottles to a good cause.
Getting in the holiday spirit, people are making Christmas trees out of empty wine bottles, and the results are completely magical — SO magical enough that you may possibly ditch chopping down that evergreen for a wine bottle tree this year. But I'll let you be the judge of that.
Christmas and wine are two of my favorite things, so this fad is right up my alley.
When it comes to the holiday season, I am a serious Christmas addict. No joke, I'm legit obsessed with everything about it — from binge-watching "25 Days of Christmas" in front of a v. ~toasty~ fire, to chugging eggnog like it's low-key my job.
I can play Mariah Carey's "All I Want for Christmas Is You" over and over a billion times and not get the least bit sick of it because I'm devoted AF to this holiday.
Once November 1 hits, you know this girl over here is going to be breaking out her holiday playlist at work, the gym, in the car and straight-up bumping it in the shower.
I'm always on board with the latest Christmas trends, too, so these wine Christmas trees really intrigued me.
It's beginning to look a lot like wine o'clock.
These trees definitely take pure dedication and holiday cheer to make.
I'm dreaming of a white wine Christmas.
Because, duh.
This patio looks like it came straight out of a Christmas book. All that's missing is some snow.
Deck the halls with boughs of Barefoot.
Does this tree look cozy AF or what?!
Although I love having a real tree in my house, a wine bottle one would be a chic addition to the holiday decor, IMO.
Citations: People Are Using Their Empty Wine Bottles to Make Christmas Trees (Cosmopolitan)