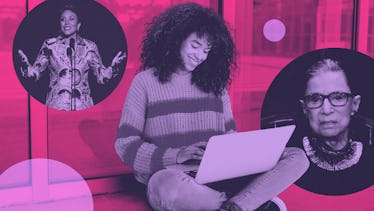 8 Virtual Women's History Month Events That'll Inspire You To Make Your Own Rules
Kevin Winter, Chip Somodevilla/Getty Images
Throughout March, there are a number of empowering female-centric virtual experiences you can immerse yourself in from the comfort of your own home to capture and celebrate the spirit of Women's History Month. Whether that means transforming your living room into an art studio as you create a portrait of a strong leader such as the late Supreme Court Justice Ruth Bader Ginsburg or watching an eye-opening broadcast (from the couch) on how Native American women are pushing for gender and racial equality in politics, these eight virtual Women's History Month events honor past and present female activists and will inspire you to make your own rules when it comes to how you want to live your life.
According to the official National Women's History Alliance (NWHA), the theme of Women's History Month this year focuses on the courageous women "refusing to be silenced" by achieving the right to vote in 1920. Hopefully, hearing the groundbreaking stories in these virtual Women's History Month events will spur you toward being just as steadfast in your beliefs as these pioneers were.
Taking part in Women's History Month will, of course, look different this year, with most, if not all, of the usual in-person festivities like art exhibitions and film festivals canceled or put on hold due to the coronavirus pandemic. But these virtual events provide an opportunity to learn and be inspired from the solace and safety of your own couch or kitchen. Whatever activities you choose to sign up for, you'll leave feeling eager to amplify your voice and embrace your own journey.