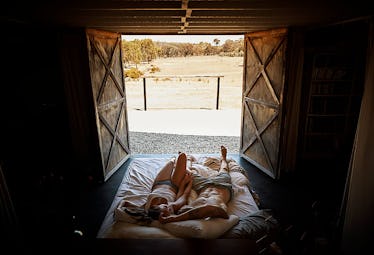 These 8 Trust-Building Exercises May Help If You're Struggling To Trust Your Partner
Trust can be a tricky thing for some people, especially if it's seen as something that needs to be earned, and not necessarily given right off the bat. But whether you trust easily or it takes you some time, it can be comforting to know that trust can be built and improved upon with some practice. If you find yourself struggling to trust the person you love, regardless of the reason for your hesitation, there are several trust-building exercises to do with your partner that can help you get over that hump and learn to trust your SO.
"Trust is ingrained in our genetics," Dr. Benjamin Ritter, founder of The Breakup Supplement and LFY Consulting, tells Elite Daily. "Trusting another person could be the basis of your survival. Hence, trust is built through very specific experiences. Trust-building exercises and even something as simple as staring into the eyes of your partner for an extended period of time, are real and work." Trust is a fragile thing, and if it takes you some time to be able to trust someone, that's totally OK. Consider trying one of these eight trust-building exercises if you want to work toward further developing that bond with your partner.