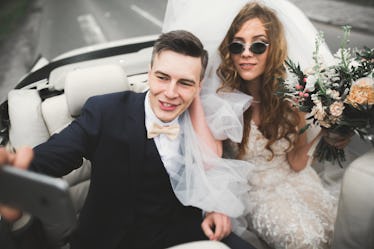 These 8 Tips Will Make A Zoom Wedding Feel Just As Special As An IRL One
Shutterstock
It's hard to believe that just last year, Zoom was primarily used as a productivity tool for companies with remote workers — now, brides and grooms everywhere are using this program to safely share their nuptials with loved ones near and far. In many ways, a virtual wedding has become the "new normal" for those couples who simply aren't willing to wait until the pandemic passes to say "I do." And fortunately, experts agree that there are a ton of tips for making a Zoom wedding feel special, despite the fact that your friends and fam might not all be physically present on your big day.
Given that many states and cities are still prohibiting large indoor (and in some cases, outdoor) gatherings, a virtual ceremony and reception have proved to be the perfect solution for couples who want to keep their original date while also protecting their loved ones. While the health of friends and family may be top of mind, experts say there are other benefits to Zoom weddings as well.
"Your guests will more than appreciate having an option where they can support you but also feel comfortable and safe doing so," explains Caroline Creidenberg, founder of Wedfuly — a professional virtual wedding planning company that works with Zoom. "On top of that, you're having a wedding that is potentially a zero-emissions event. We rarely think about how wasteful a wedding can be — from the food to the flowers to the planes, trains, and automobiles it takes to get people in one place."
Creidenberg also notes that when guests are sitting in a crowd of 100+ people, they can't really see the couple's facial expressions, whereas with a virtual wedding, they're privy to all those emotional moments up close. On top of that, she says many couples ultimately feel that their virtual wedding felt more intimate than an in-person wedding with hundreds of guests — which allowed them to focus on what matters: their love for each other.
If you're planning a Zoom celebration, here are wedding planners' top tips for making the festivities just as memorable — if not more so — than if you hosted the bash IRL.