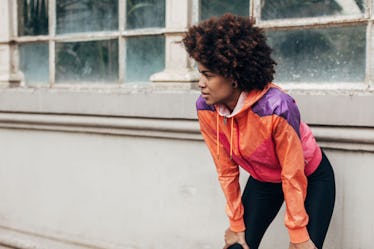 If You Want To Get Into Running, These Expert Tips Will Help You Reach Your Goals
No matter how hard I try, I can never seem to stick to a regular running routine for more than a couple of weeks in a row. Eventually, I get too bored, too sore, or way too uncomfortable just being out in the extreme cold or heat to keep going. But the runner's high is real, at least in my personal experience, and that keeps me coming back to running again and again. If you've always wanted to add regular runs into your fitness routine, these tips for getting into running will help you find a rhythm that will work for you in the long run (see what I did there?).
First and foremost, start by thinking about what exactly you want to get out of your running habit. Are you most interested in the mental health benefits of going on long, peaceful routes? Are you excited about the opportunity to get rid of any extra energy you find yourself harboring at the end of the day? Figuring out the "why" of your desire to pick up running can help you stick to the routine. "Running really relaxes me and gives me a controlled way to channel my love for new challenges and desire to be great at everything in life I do," Olympic medalist and track/field athlete, Kristi Castlin, tells Elite Daily in an email. "It also teaches me how to face and deal with the ups and downs of what often blindsides you sometimes in this thing we call life."
Whatever your reason is for hitting the pavement, reach for your most dependable pair of sneakers and follow these tips to make sure you'll stay safe and motivated along the way.