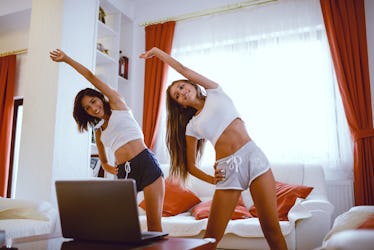 8 TikTok Workout Challenges That'll Give You & Your Roomies Major #Fitspo
AleksandarGeorgiev/E+/Getty Images
Scrolling through your phone while chilling on the couch may be your happy place, but you know, eventually, it may be time to get up and embrace your daily workout. All it takes to get you going is the right kind of motivation. Luckily, there are fun TikTok workout challenges that can be all the inspo you need. You might even want to grab your roomie if they're into trying a challenge (or two) with you.
As entertaining as it is to watch TikToks, the real fun comes in trying out the challenges for yourself. That means, it's time to switch up your go-to treadmill run with any of these eight TikTok workout challenges. The best part of trying just a few of these challenges a day is that soon enough, you'll have a full #IndoorWorkout you love that you can do at home whenever your heart desires.
Try a pushup challenge if you're focusing on your arms, or a running challenge if you want to work in some cardio. Have bae join you for cute couples workout videos together, or gather up your roommates for apartment bonding time. Whatever you do, you know the fun is in tackling each challenge that comes your way. Of course, those likes you get from your TikTok posts are just a nice added bonus.