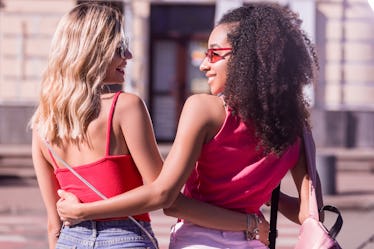 8 Things You & Your Bestie Deal With In Your 20s That Bring You Even Closer
No one ever told me how my 20s would actually play out. I always imagined this decade to be a perfect balance of work, dating, and a few added responsibilities — basically, I was happily clueless until adulthood hit me real hard. You might be in the same boat as me, and wish someone properly prepared you for every little thing life would throw at you, but luckily, the things you and your best friend deal with in your 20s are what bring you closer than ever.
I can't stress how amazing it is having a partner in crime by your side through thick and thin. That's what your best friend is. She's there to help you when the struggle's all too real, and will say, "same" when you're completely confused about adulting things. You're both going through the same growing pains of adjusting to this new stage of life, and the outcome is a strong BFF bond. Pretty much every thing you encounter together is like adding a new charm to your most cherished friendship bracelet.
Looking back on the journey you've already gone on together, you're forever grateful for having a bestie by your side through these eight things. It also means you're totally ready to take on whatever else is up ahead.