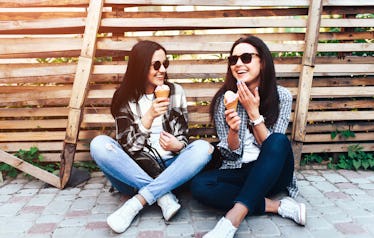 10 Valuable Lessons You Can Only Learn From Your Best Friend In Your 20s
There's no denying that your best friend is one of (if not the) most important person in your life. She's the first person you text in the morning, your go-to sidekick for every adventure, and the keeper of all your secrets. It can be difficult to find a true best friend, and luckily, you've found yours. Not only is she your favorite human to marathon Netflix and hit up the coolest wine bar with, but there are so many lessons you learn from your best friend in your 20s that makes her invaluable to you.
It's not like life is a classroom and your bestie is the teacher who gives you tips on how to conquer the world. Theses lessons are ones you discover together as you're navigating your first decade into adulthood. I'm sure you've heard over and over again that your 20s are an important time in your life — and it couldn't be more true.
When you're in your 20s, you're becoming more of the person you were meant to be. That means a lot of those life lessons you've heard thus far begin to actually make sense. Needless to say, some of these lessons might sound familiar to you, but it's not until your 20s when your best friend really shows you what they mean.